From S'pore LGBT encyclopedia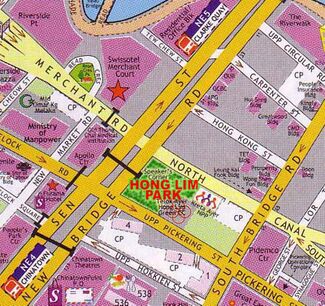 Also officially known as Hong Lim Green, it was the first and formerly the most famous Singaporean gay venue listed in the premiere international gay tourist reference, the Spartacus Gay Guide. It was affectionately code-named "Honolulu" or "Hollywood" in the early years by some English-educated gay men. Cruisy at night for more than half a century, its dim lighting and tall shrubbery provided ideal conditions for quickies between gay men, especially elderly Chinese-educated ones, until the bushes were pruned and bright lights installed in the early 90s to deter such activities. The rectangular plant receptacles along the periphery of the park where gay men could sit, chat and perhaps fondle each other have also since been removed. Nightly cruising and sex also took place in a small 2-storey shopping centre which was demolished and replaced by the present car park. In the 1980s, casual strollers were shocked to see young boys holding hands at night and wrote letters to the newpapers to complain. In spite of several police patrols in which these boys were questioned, no one was charged as nobody was caught flagrante delicto. The setting-up of the Kreta Ayer Neighbourhood Police Post in an old building (which formerly housed a post office) next to the car park was also considered a measure to curb late-night cruising. Policemen would ride out on their bicycles in the 1990s to comb the entire Boat Quay-OCBC building area at night to scare away thrillseekers. Noctural cruising activity is now sparse and mainly confined to the toilet located next to the Kreta Ayer community centre.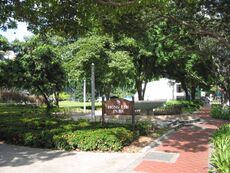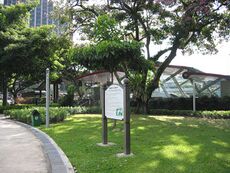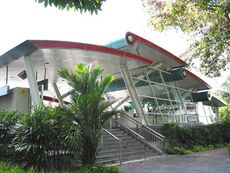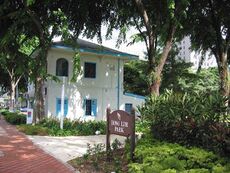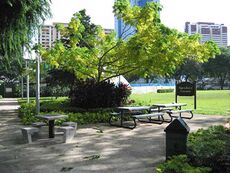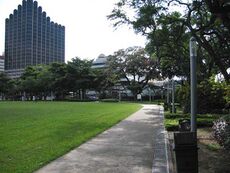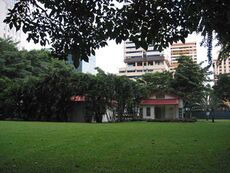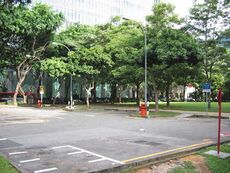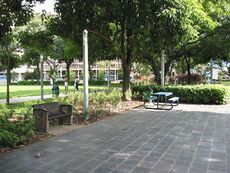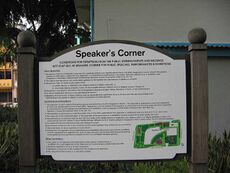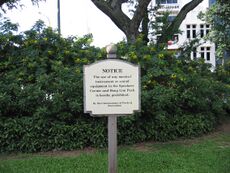 Since May 2009, Hong Lim Park has been the venue for the annual, massively attended, public LGBT-supportive event organised by Pink Dot SG. This was possible after the Government legalised the holding of demonstrations at Speakers' Corner on 1 September 2008.

Reported cases of police entrapment
[
edit
]
Police raid three transvestite and homosexual areas
25 July 1989
Straits Times
Marina Park, Elizabeth Walk and Hong Lim Park belong to the tourists, office workers and strollers by day. But come sundown, homosexuals and transvestites have turned these places into their haunts.
Their growing numbers and increased activities at the three locations led to police taking action against them over the weekend.
In swoops which began on Saturday and which ended yesterday, more than 120 people were taken to the Central Police Station for questioning before being released.
Police said the majority of transvestites and homosexuals moved to Hong Lim Park and other parks in the Central Business District after owners of nightclubs, lounges and other establishments were warned in February last year that they could lose their public entertainment licences if they continued to admit such groups of people as patrons.
This resulted in an exodus of homosexuals and transvestites from their haunts in the Orchard Road area, especially near Orchard Towers and Forum Galleria.
Sources said police would continue monitoring the areas within the Central Business District to ensure that such places were not used for immoral activities.
Police warned that those found repeatedly loitering or soliciting for business would be brought to book.
Under the Miscellaneous Offences Act, any person who persistently loiters or solicits for the purpose of prostitution or for any immoral purpose in any public road or place faces a maximum fine of $1,000.
Second and subsequent offenders face a maximum fine of $2,000, a jail sentence not more than six months, or both.
In the past, people have complained about being harassed by transvestites and homosexuals at Hong Lim Park.
But of more concern to the police is the possibility that these haunts could become venues for criminal activities, namely thefts and drugs.
Nine held in police raid to curb homosexual activities
9 April 1990
Straits Times
IN A surprise raid early yesterday morning, police arrested nine men for alleged homosexual activities in the Hong Lim area.
Two of them, aged 30 and 36, were caught performing an obscene act on each other in a back lane near Boat Quay.
The other seven, aged between 27 and 52, were picked up for soliciting at Hong Lim Park and South Canal Road.
Plainclothes officers from Central police station met with no resistance from the men during the 50-minute raid, which started at 1 am.
A police spokesman said the authorities were aware of the homosexual activities in the area.
A report in Lianhe Wanbao on Dec 28 last year said the area around Boat Quay was "fast becoming a gay paradise".
It said that after 8 pm, homosexuals could be seen meeting and lingering there.
Under the law, any male who commits an indecent act with another male in public or private can be jailed up to two years.
A person who solicits in public can be fined up to $1,000. Repeat offenders can be fined up to $2,000 or jailed up to six months, or both.
Seven men fined $500 each for soliciting in public
10 April 1990
Straits Times
Seven men made advances - but to the wrong people.
The men the seven approached turned out to be undercover policemen.
The seven - Paul Toh, 27, a senior accounts executive; Chong Chang Mei, 37, an odd-job labourer; Seah Miang Kaw, 37, unemployed; Ng Say Aw, 40, a book-keeper; Tiang Teng Hoong, 41, an accounts clerk; Tan Pang Hai, 27, a machine operator; and Soh Siang Huat, 52, a hospital attendant - were fined $500 each by a district court yesterday.
They admitted to soliciting for immoral purposes in a public place. The seven, all first offenders, were arrested on Sunday between 1 am and 1.50 am in a surprise police raid on homosexual activities in the Hong Lim and South Canal Road areas.
Two other men were also charged in the same court with performing an obscene act in a public place.
Harold Leong Hu Hoong, 30, an export manager, and Lim Chia Huat, also 30, a purchaser, are alleged to have committed the offence in a backlane of Collyer Quay on the same day at about 1.20 am.
Both men yesterday claimed trial and they will appear in court again on April 21.
Bail was set at $3,000 each.
Under the law, any male who commits an indecent act with another male in public or private can be jailed up to two years.
A person who solicits in public can be fined up to $1,000. Repeat offenders can be fined up to $2,000 or jailed up to six months, or both.
Grossly indecent act lands two in court
14 August 1990
Straits Times
Two men were yesterday sentenced to two months' jail each for gross indecency at Hong Lim Park.
Tan Toh Kern, 49, a marketing executive, and Ng Boon Heng, 26, a restaurant captain from Malaysia, were found hugging each other at 11.20 pm on Friday by Police Constable Seow Seng Cheong. Tan was masturbating Ng. PC Seow arrested them.
They were separately charged in a district court yesterday. Both men pleaded guilty.
In the afternoon, Tan's family engaged a lawyer who applied to retract Tan's guilty plea. District Judge Hamzah Moosa disallowed the application.
Tan's lawyer filed notice of appeal against the sentence.
Tan was offered $5,000 bail pending the appeal. He is a first offender while Ng has a previous conviction for theft.
A person can be jailed up to two years on a gross indecency charge. Nine men were arrested by police for alleged homosexual activities in the Hong Lim area in early April this year.
See also
[
edit
]
References
[
edit
]