From S'pore LGBT encyclopedia
In contrast to the numerous local theatre productions dealing with LGBT subject matter which had burgeoned since the late 1980s (see main article: Singapore gay theatre), there was not a single feature-length film entirely made by Singaporeans in Singapore belonging to this genre until Loo Zihan's production of "Solos" in 2007.
The first attempt at organising a mini-gay "film festival" at a reasonably large public venue was undertaken by Dr Tan Chong Kee and Alex Au on Wednesday, 29 March 2000. They held a private screening (by registration only) of the English version of the gay Taiwanese box office hit "Boys for Beauty" at the Alliance Francaise, Sarkies Road, at 8pm[1]. The original Chinese language version of the movie had recently been screened at the Singapore Film Festival. The film's director, Mickey Chen, was present for the Q&A session[2]. It was followed by a press conference[3]. In late April 2000, Asiaweek published an article about the film which contained a paragraph in which Alex Au gave his views on Singapore censors' restriction of the movie to adult audiences only[4].
The culmination of efforts to redress the deficiency in the screening of local LGBT films to a sizeable audience was witnessed on 6 October 2006, when Singapore's inaugural, annual private LGBT film festival, "Short Circuit", was held at the Guinness Theatre at The Substation at 7:30 pm[5],[6]. It was organised by PLU activist Alex Au and hosted by film director Boo Junfeng and writer Alfian Sa'at. It featured 12 short films that met the criterion of either being produced by LGBT individuals or having an LGBT theme (see main article: Short Circuit: Singapore's first LGBT film festival).
From 25 to 27 January 2008, cinema chain Golden Village (GV) organised "The Love and Pride Film Festival", the first commercial Singaporean film festival dedicated to international LGBT feature films[7]. However, publicity was discreet and minimal. It showcased a modest slate of only 7 titles already cleared by censors and shown separately in Singapore cinemas in 2006 and 2007[8].
Feature films
[
edit
]
Bugis Street
[
edit
]
A 1995 Hong Kong-Singapore co-production about the lives of Singaporean transgender women in a bygone era. It was a minor hit at the box office on account of its R(A) (Restricted (Artistic)) rating and its nostalgic evocation of a seedy but colourful aspect of Singaporean culture, prior to the redevelopment of Bugis Street into a modern shopping district and the eradication of transwoman activities in the area.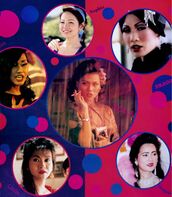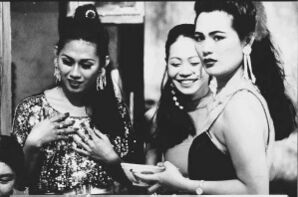 16-year old Lien, winningly portrayed by Vietnamese actress Hiep Thi Le, is this Yonfan-directed, Jacky Tang-lensed and Fruit Chan and You Chan-co-scripted offering's main protagonist. Despite her having worked for a time as a servant in a household whose "young master" adored her in her hometown of Malacca, West Malaysia, the young lass comes across as having led a surprisingly sheltered life. She journeys to Singapore to seek employment as a maid in the Sin Sin Hotel along Bugis Street.

She seems thoroughly content for a time to possess a naive, romanticised view of the rambunctious goings-on at the hotel where she witnesses "the sad departure of an American gentleman" from the home-cum-workplace of "his Chinese girl". The guest is actually a presently-sober but angry American sailor who has belatedly discovered that the Singaporean Chinese prostitute he picked up in Bugis Street and spent a drunken night with happens to be a transwoman.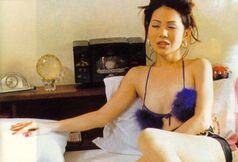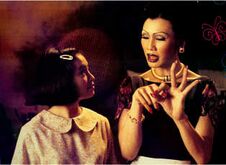 Before long, the newbie employee Lien finds out that many of the long-term lodgers of the budget establishment, whose room rental rate is S$3, whether it be for an hour or the entire day and night, are trangender women who were born with male bodies. Although her first reaction to seeing someone with breasts and a penis is one of vomit-inducing revulsion which causes her to contemplate fleeing the neighbourhood, she ends up not giving in to her impulses.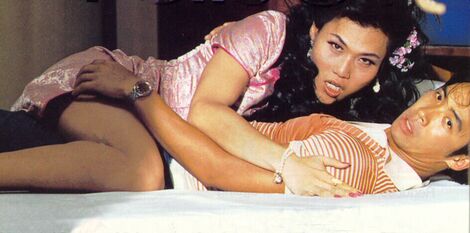 Instead, she listens to, then heeds, the warm cajoling of Lola, the transvestite hotel resident who has treated her well from the start of her stint. She comes to be unperturbed by the unique, complex personalities of the unorthodox community, who in turn also begin to accept her.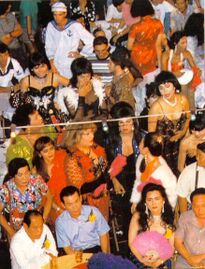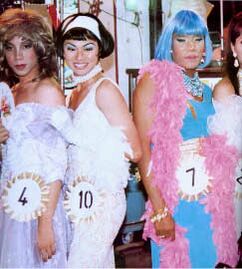 As she learns to look beyond the surface, she is rewarded with the generous friendship of the cosmopolitan and sophisticated Drago, who has returned from Paris to minister to his/her dying but loving and tolerant mother.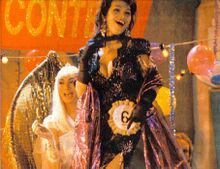 While Lien learns the ways of the world via her encounters with Meng, the slimy, often underdressed boyfriend of Lola, as well as night-time escapades on the town with Sin Sin Hotel's other denizens, she begins to see beauty in unlikely places and to grow despite the presence of ugliness in an imperfect world.
Rice Rhapsody (alternative title Hainan Chicken Rice) (Chinese: 海南雞飯, literally meaning Hainanese chicken rice) was a 2004 Hong Kong production directed by Kenneth Bi. The cast included formerly popular Taiwanese actress Sylvia Chang and celebrity Chinese American chef Martin Yan. The plot revolved around a contemporary Singaporean divorcee grappling with the homosexuality of her 2 eldest sons and dramatised her efforts to steer her third and youngest son's sexuality.
File:RiceRhapsody001.jpg File:RiceRhapsody002.jpg File:RiceRhapsody003.jpg File:RiceRhapsody004.jpg File:RiceRhapsody005.jpg File:RiceRhapsody006.jpg

It bombed at the box office and was panned especially by gay critics as being too artificial in its representation of Singapore life. (Read reviews of the movie by Yawning Bread, Charles Tan and Ken Lee: [10]; Fridae article:[11]).
A film biography of a transsexual Thai kickboxer directed by Singapore-based Ekachai Uekrongtham, along with the input of Singapore gay talent.
File:BeautifulBoxer001.jpg File:BeautifulBoxer002.jpg File:BeautifulBoxer003.jpg

Based on the true story of Thailand's famed transgender kickboxer, Beautiful Boxer is a poignant action drama that punches straight into the heart and mind of a boy who fights like a man but feels like a woman.
Believing he is a girl trapped in a boy's body since childhood, Parinya Charoenphol (affectionately known as Nong Toom in Thailand) sets out to master the most masculine and lethal sport of Muay Thai (Thai boxing) to earn a living and to achieve his ultimate goal of total femininity. Touching, funny and packed with breathtaking Thai kickboxing sequences, Beautiful Boxer traces Nong Toom's childhood, teenage life as a travelling monk and gruelling days in boxing camps. Shot in 9 provinces across Thailand and in Tokyo, the film also features a series of explosive matches where Nong Toom knocks out most of his opponents in Thailand and Japan.
Directed and produced by Singapore-based, ethnic Thai director Ekachai Uekrongtham, the film stars Asanee Suwan, a real-life kickboxing champ as Nong Toom. The role earned him the 2004 Supannahongsa Award (Thailand's equivalent to the Oscar) for Best Actor. Beautiful Boxer also features compelling performances by Thailand's award-winning actor Sorapong Chatree in the role of Nong Toom's coach and former Miss Thailand Orn-Anong Panyawong as Nong Toom's mother.
Kyoko Inoue, one of Japan's top female wrestlers plays herself in the film. She has fought with Nong Toom in real life back in 1988. That historical match was reenacted for the film in a dramatic sequence shot at the Toyko Dome. Nearly all of Nong Toom's opponents in the film are also professional kickboxers in real life.
File:BeautifulBoxer004.jpg File:BeautifulBoxer005.jpg File:BeautifulBoxer006.jpg File:BeautifulBoxer007.jpg File:BeautifulBoxer008.jpg File:BeautifulBoxer009.jpg File:BeautifulBoxer010.jpg File:BeautifulBoxer011.jpg File:BeautifulBoxer012.jpg File:BeautifulBoxer013.jpg File:BeautifulBoxer014.jpg File:BeautifulBoxer015.jpg File:BeautifulBoxer016.jpg File:BeautifulBoxer017.jpg File:BeautifulBoxer018.jpg File:BeautifulBoxer019.jpg File:BeautifulBoxer020.jpg File:BeautifulBoxer021.jpg File:BeautifulBoxer022.jpg File:BeautifulBoxer023.jpg File:BeautifulBoxer024.jpg
Solos, released in 2007, was the first gay feature-length film and undoubtedly the most sexually explicit gay movie to be made in Singapore[12]. It depicts the relationship between a junior college student and his male teacher.
In late April 2007, the movie's producer, Florence Ang, announced that she would be withdrawing the film from its world premiere on April 25 at the 2007 Singapore International Film Festival "to preserve the principle that films at the festival should be shown uncut"[13]. Censors had demanded 3 cuts to the 77-minute dialogueless film. The movie starred veteran actor Lim Yu-Beng as the teacher, co-director and screenplay writer Loo Zihan as the student and Goh Guat Kian as the latter's mother who suffers from depression. Co-directed by Kan Lume, it bagged the Premio Nuovi Sguardi Award at the 2008 Torino GLBT Film Festival[14]. It was never shown in Singapore.
I hugged the Berlin patient
[
edit
]

I Hugged The Berlin Patient is the 2014 critically-acclaimed docu-adventure-comedy about spirited cancer survivor Edgar Tang's spontaneous and lighthearted quest across continents to find and hug Timothy Ray Brown aka The Berlin Patient – the first man in the world cured of HIV[15],[16],[17].
Without any knowledge of German, Tang transports himself into the medical marvel's favourite city Berlin, and through perseverance and on-the-go decisions, serendipitously gets closer to uncovering Brown's ordeal and the radical treatment that cured him of both HIV and leukemia in 2007. Tapping on his own recovery from Stage III Hodgkin's lymphoma that same year, Tang fleshes out the next illogical plan to travel farther, just to hug the stranger.
I Hugged The Berlin Patient is an independent made-for-charity film dedicated to charities related to HIV and cancer cure work. Its recent theatrical release in Singapore helped raise over S$20,000 for Action for AIDS Singapore. Its next mission is to pass the hope and #PassTheCure - a movement to bring about a US Charity Premiere on World AIDS Day 2014, in honour (and in the presence) of Timothy Brown and AIDS cure research[18].
3 Peas in a Pod
[
edit
]
The main characters in the 2013 Michelle Chong movie are university mates Peter (Alexander Lee Eusebio) , Perry (Calvin Chen) and Penny (Jae Liew). Upon graduation, Peter suggests that the three of them go on a road trip...and it changes their lives. The audience starts to have an inkling that this is not a plain vanilla love triangle when Perry uses his iPhone to snap photos, particularly of Peter when he is driving. Penny only has eyes for Peter even though he treats her more like a buddy. She eventually becomes just an instrument for both men. The story ends in tragedy, poignantly depicting the agony of gay love, especially in an Asian society.
A Fantastic Ghost Wedding
[
edit
]
Tending more towards a family drama than a ghostly tale, the 2014 movie A Fantastic Ghost Wedding was Singaporean filmmaker Meng Ong's second feature and a collaborative effort between Hong Kong, Taiwan and Singapore.
A neurotic ex-singer May Wu hires 11-year-old spirit medium named Boy and his single father Master Wong (played by comedian Mark Lee) as highly recommended but unusual matchmakers, tasked to find a wife for her teenage son, Peng, who died suddenly. Using an old Chinese matchmaking ritual, the three of them embark on the search for a perfect bride. However, the situation becomes challenging as they move from place to place and yet, the right bride cannot be found. Apparently, Peng died a mysterious death and cannot be un-rested.
When the search takes on an unexpected turn, Master Wong insists that the match is legitimate but Mrs Wu strongly disagrees. Boy begins to wonder if the ritual is bogus and if they are phony mediums. At the same time, Boy is facing problems in school. As Mrs Wu charges headlong to organise an elaborate wedding banquet for Peng, the fight between her and Master Wong escalates. But as the clock ticks closer to the ghost wedding, who will the bride be? At the wedding, Mrs Wu encounters one problem after another as all Chinese ghost wedding hell breaks loose. As secrets are revealed, it turns into a fantastic night of shocking revelations and both families are forced to face up to the lies they have all been living with.
Some Women
[
edit
]
Some Women was a 2021 feature documentary produced by transwoman freelance film director, writer and producer Quen Wong.
Her first foray into the genre, the film traced her own trajectory from 'living in stealth' to finding pride, love and community[19]. It touched with bracing honesty upon her journey as a transgender woman in Singapore - from her days as a teenage boy coming out to her uncommonly supportive family, to the present as a woman about to marry the love of her life. Locating herself within the local trangender community, the documentary also weaved in interviews with different generations of transwomen including Anita, a former legend of Bugis Street, a world-famous stomping ground for transwomen from the 1950s to the 1980s, and Lune Loh, a trans youth activist.
The movie was made with the support of the Tan Ean Kiam Foundation – SGIFF Southeast Asian Documentary Grant (SEADOC) scheme in 2019 and the International Documentary Film Festival Amsterdam (IDFA) project award at Docs by the Sea in 2020.
It premiered on Saturday, 4 December 2021 during the 32nd Singapore International Film Festival which began in November 2021 and was screened at Carnival Cinemas Singapore located in Golden Mile Tower. The documentary won the Audience Choice Award at the film festival, which earned it an encore screening at Filmgarde Bugis+ at 6:30pm on 5 December 2021. Doubtless, the queer vote played a powerful part in clinching it and activists hoped to get movie into mainstream cinemas. Wong remarked: "We are here, and we have been here forever, and I hope this film can be a document of that."
Short films
[
edit
]
Sambal Belachan in San Francisco
[
edit
]
Sambal belachan in San Francisco is an award-winning 25-minute short film by Singapore-born producer, director, editor and cinematographer, Madeleine Lim, which explores issues of race, sexuality and nationality[20]. It was accepted at the 1997 Singapore International Film Festival but was banned by government censors just before it screened. The film premiered at the San Francisco International Lesbian and Gay Film Festival in June 1997. It remains banned in Singapore to this very day.
The Letter
[
edit
]
The Letter is a 2005 short film which generated some controversy upon its release on the Internet. Created by the then 22-year-old director, Justin Kan, who wished only to be known as Sagara, the movie is based on the true story of an acquaintance of his in school, an openly gay senior student from junior college who committed suicide over unrequited love for a straight schoolmate. It was produced by Dex Tan.
The film was shot as part of the Canon Digital Film Festival, and Anderson Junior College (AJC) was kind enough to allow Sagara and his team to film on the school premises. Although the film didn't make it into the finals of the competition, Sagara and his team were pleased to receive a warm response during a screening at Mox Bar and Cafe.
Tanjong Rhu
[
edit
]
A 19-minute short film completed in May 2008 by the then 24-year old director Boo Junfeng. It was partially sponsored by Fridae and based on the notorious arrests of 12 gay men in a police entrapment exercise in 1993 (see trailer:[21], Fridae interview:[22]). The film had its world premiere at the 59th Berlin International Film Festival in February 2009 and was nominated for a Teddy Award - the official queer award at the festival[23]. It premiered locally at the 22nd Singapore International Film Festival in April 2008.
However, just days before it was to have its world premiere on Saturday, 15 August 2009 at the 6th annual Singapore Short Cuts festival, it was withdrawn by the organisers - the National Museum and the Singapore Film Commission[24]. The latter operates under the auspices of the Media Development Authority.
Women who Love Women
[
edit
]
On Saturday, 7 July 2007, Singapore's first lesbian documentary, "Women who Love Women" premiered at Pelangi Pride Centre, Bianco, #04-01, 21 Tanjong Pagar Road at 4:30pm[25]. The 65-minute film was produced by 33-year-old graduate student Ngiam Su-Lin, directed by Lim Mayling and featured 3 Singaporean lesbians, Amanda Lee, Sabrina Renee Chong and Gea Swee Jean who shared their coming out experiences, and their views on topics such as coming out and relationships[26]. A question-and-answer session with the interviewees and filmmaker followed the screening. It was screened at the 2008 Singapore International Film Festival[27].
Lucky7, which premiered at the International Film Festival Rotterdam in early 2008, is an 82-minute, multiple-genre, multiple-language collaboration by 7 local directors, 4 of whom were gay - Sun Koh, K. Rajagopal, Boo Jun Feng, Ho Tzu Nyen, Tania Sng, Brian Gothong Tan and Chew Tze Chuan who each made 10- to 12-minute segments[28]. Each director was only allowed to know the last minute of the preceding segment[29]. It was screened, together with Women who Love Women, at the 2008 Singapore International Film Festival.
Four Dishes
[
edit
]
Four Dishes is a 2008 short film written and directed by Leon Cheo[30]
Synopsis
[
edit
]
What is it they say about a family which eats together? Daryl has two meals with his family, each one completely different from the other.
Reviews
[
edit
]
"Pretty power stuff here." – Stefan Shih, A Nutshell Review.

Threshold
[
edit
]
Threshold is a 2009 short film by director Loo Zihan based on the true story of a gay medical student on his way to a sex orgy who was caught in an anti-narcotic sting operation. It was partially funded by the proceeds from the Milk fundraiser organised by Fridae in Singapore in early 2009 as the filmmaker was unable to raise funds from conventional sources due to the content of the 20-minute film which touched on law enforcement issues[31].
Loo created a stir when, as a student at Nanyang Technological University, the media reported that he was 'protesting' when he said in his valedictory speech that his school had asked him to change the poster advertising Threshold, his final-year project. He told the media that the poster for the film had been deemed 'inappropriate' to be displayed during the convocation ceremony.
Just days before it was to have its world premiere on Saturday, 15 August 2009 at the 6th annual Singapore Short Cuts festival, it withdrawn by the organisers - the National Museum and the Singapore Film Commission[32]. The latter operates under the auspices of the Media Development Authority.
At the inaugural Singapore Short Film Awards (SSFA) held at The Substation on 31 January 2010, the film won the Best Script award and was also nominated for Best Cinematography and Best Soundtrack.
Female Games
[
edit
]
Advertising itself as "the first contemporary Singaporean film to boldly portray female homosexuality," the film tells the story of a young Singaporean model, Alexia, and her female friend who leave for Kuala Lumpur to meet a casting agent[33]. The two eventually find themselves falling in love after a number of pitfalls on the road. "Through the journey, Alexia grapples with what it means to be pan-Asian and lesbian," said Kan Lume who directed and wrote the screenplay. Kan expected his movie to be banned in Singapore for its lengthy, explicit sex scenes between two women.
The Anniversary
[
edit
]
On Friday, 4 December 2009, "The Anniversary", a short film directed by Royston Tan and written by Alfian Sa'at, premiered at the Love fundraising dinner organised by Action for AIDS (AfA). The themes of the film were gay relationships, sex, orgies and drugs, forming part of AfA's safe-sex education. It was rated R21 without cuts by the Media Development Authority[34].
The film's music was by Eunice Olsen and Rennie Gomes, post production by Blackmagic Design and the production company was Chuan Pictures.
Swing is a 2010 short film written and directed by Leon Cheo[35].
Synopsis
[
edit
]
A few weeks after Wei Long and Daniel have broken up, Daniel asks Wei Long to meet him once more.

Sisters (姐妹)
[
edit
]
A 2011 short film by Lincoln Chia[36] viewable in its entirety on Viddsee[37].
This groom has a secret. So does his brother in law. The Chinese custom for bridesmaids, or "sisters", is to playfully impede the groom's progress as he comes to fetch his bride on the wedding day. Things take on an unexpected turn when a cheeky relative at the wedding volunteers to take on the role of a bridesmaid.
Festivals & Awards
Echoes of an Escape, National University of Singapore, 2013
Short Films from Singapore: Exploring Gender Identities: Films from Indonesia, Malaysia and Singapore, UC Berkeley (Center for Southeast Asia Studies), 2012
3rd Singapore Short Film Award, 2012 (Nominated for Best Fiction, Best Script, Best Editing, Best Performance)
5th Short Circuit, Singapore LGBT showcase, 2012
7th InDPanda International Short Film Festival, Hong Kong, 2011
6th Jogja-NETPAC Film Festival, Indonesia, 2011 (Nominated for the Light of Asia Award)
24th Singapore International Film Festival, 2011 (Nominated for Best Film, Best Director)
Purple Light
[
edit
]
Purple Light is a 2015 short film based on the true story of a young recruit who enters National Service without knowing what is ahead of him. Being physically weaker, Zipeng is often laughed at by his superiors and peers. Tasked upon by his superior to help train up his buddy, Ethan became Zipeng's closest buddy. Unexpected and unbeknownst to both, feelings begin to grow. Zipeng, afraid of being found out and the repercussions that this would engender, finds himself being caught in the struggle between being true to himself and what others may think of him. Ethan, a perennially happy and positive person, suddenly finds himself having to deal with the discovery of his nascent sexuality.
How will both boys eventually reconcile their dilemma?
"Purple Light" is a film that encourages homosexuals to come to terms with themselves. At the same time, it strives to let them know that they are not abnormal and they are not alone.
People Like Us
[
edit
]
People Like Us, released in 2016, was Singapore's first gay web series. It was eponymously named after Singapore's first LGBT advocacy group, whose influence on local LGBT history was so widespread that the term "PLU" has become a slang word for LGBT people not only in Singapore, but also in neighbouring Malaysia. The series was produced by filmmaker Leon Cheo for gayhealth.sg and consists of six parts.
Synopsis
[
edit
]
Based on true-to-life characters, People Like Us follows the lives of four gay men in Singapore. The web series is a poignant reflection and insightful look at being gay in Singapore. In addition to the sexual escapades and relationships that unfold between them, it explores critical health issues[38].
So, it's Friday night, possibly the most important day on the #gayagenda. Rai, Joel, Ridzwan & Issac are prepping themselves before heading out. Rai, after bookout, is trying to score a date with Joel, while Joel is finishing up his routine at the Gym. Ridzwan is at a sauna, hunting for his next hookup and Issac settles in, and popped a Viagra. Four men. Lust, love, life. People Like Us.
This Is My Love Song For You
[
edit
]
This 2018 short film was made by director Nickson Cheng after a short 10-session course on film making. Working with the equipment provided, a boom and an outdated camera, it was shot within a few hours and logistics were deliberately reduced to a minimum. That included considerations during scripting, location, crew and actors. It was a maiden attempt for the director and definitely a work of passion[39].
Synopsis
[
edit
]
The film is about love. If love is unconditional, then to be able to love openly must be a given. Yet, somehow, this expression of love eludes many only because whom the characters love is not what the majority would consider acceptable. The pain of love lost is perhaps even more excruciating if it is a forbidden love. For love has arrived stillborn.
In September 2018, the film was honoured to be chosen as on of the finalists in the August 2018 edition of the Changing Face International Film Festival (CFIFF) based in Sydney, Australia which runs film and screenplay competitions monthly. It was the only finalist to be representing Singapore.
In the very same month, the movie was bestowed the Best Student Film award in the Eurasia International Monthly Film Festival held in Russia.
Aqua Man
[
edit
]
On 19 December 2020, Aqua Man (变信人), a short film on conversion therapy written and directed by Jet Ho premiered on YouTube[40].
Description:
"Set in the 2000s, Aqua Man talks about the emotional transformation of a young boy, Junjie, and its religious dilemma of being a gay Christian individual in Singapore.
Aqua ah kua, ah kwa /kuah, kʊɑː/ n. & a. [poss. Hk. (邪 k'hwa (sëà distorted, perverse (Medhurst); Mand. kuā (literary language) askew, crooked, aslant, oblique (+ xié evil, heretical, irregular) (Comp. Chi.–Eng. Dict.)] Also ah gua, ah qua, and abbrev. to AK, AQ. derog. A n. 1 An effeminate man. 2 A male transvestite. B a. Effeminate, sissy."

It was Ho's directorial debut, which although taking only one month to conceptualise, write, cast and produce, was immensely difficult for him to promote. This was due to Singapore's draconian censorship laws regarding homosexuality and the story of student Jun Jie, his distressed mom, and Bible-armed pastor was rejected at least 15 times by streaming platforms and film festivals[41].
Films with LGBT sub-plots
[
edit
]
Saint Jack
[
edit
]
Saint Jack is a 1973 novel by Paul Theroux and a 1979 eponymous film. It tells the life of Jack Flowers, a pimp in Singapore. Feeling hopeless and undervalued, Jack tries to make money by setting up his own bordello, and clashes with Chinese triad members in the process. Ben Gazzara stars as Flowers in the film, directed by Peter Bogdanovich.
Saint Jack was shot entirely on location in various places in Singapore in May and June of 1978. As of 2006, it is the only Hollywood film to have been shot on location in Singapore. Places featured in the film include the former Empress Place hawker centre (now demolished) and Bugis Street. The local authorities knew about the book, hence the foreign production crew did not tell them that they were adapting it, fearing that they would not be permitted to shoot the film. Instead, they created a fake synopsis for a film called "Jack Of Hearts", and most of the Singaporeans involved in the production believed this was what they were making.
The film was banned in Singapore and Malaysia on 17 January 1980[42]. Singapore banned it "largely due to concerns that there would be excessive edits required to the scenes of nudity and some coarse language before it could be shown to a general audience," and lifted the ban only in March 2006[1]. It is now an M18-rated film.
Saint Jack was re-released in North America on DVD in 2001.
A book which details the development, production and aftermath of the Saint Jack film, entitled Kinda Hot: The Making of Saint Jack in Singapore, was published by Marshall Cavendish in March 2006 and is written by Ben Slater.
In an interview with The New York Times on 15 March 2006, Bogdanovich said, "Saint Jack and They All Laughed were two of my best films but never received the kind of distribution they should have."[2] A film made in 1979 by American director Peter Bogdanovich.
The story was set against Singapore as a US military-approved rest and relaxation (R&R) destination for US troops in Vietnam circa the early 1970s. The movie was banned locally because it portrayed Singapore in bad light, namely showing that (a) the sex trade was flourishing, (b) it was semi-officially sanctioned and (c) Singapore supported the losing side in the Vietnam War.
Much of it was about how pimps like the protagonist, American Jack Flowers (played by actor Ben Gazzara) supplied girls to the GIs barracked at Shelford Road, a fact corroborated by university students at the Bukit Timah campus.
But a sub-plot featured a conservative US senator who prefered gay sex. A notable segment in the film showed the senator (played by one-time James Bond actor George Lazenby) picking up a late-teenager named Tony along Orchard Road and bringing him to his hotel room for sex. Male stripping and a shower scene were shown.
The film recorded for posterity that there were rent boys plying their trade along Orchard Road during those days. This could have been related to presence of Le Bistro along Scotts Road and Pebbles Bar at the Hotel Singapura InterContinental. The movie was allowed to be shown just once during a Singapore Film Festival and is still on the banned list. The Singaporean actor, Edward Tan, who played Tony the rent boy created a first in Singapore gay film history. However, according to Bogdanovich, all the Singaporeans who were given screen roles were not really 'actors' at all, but simply recruited from a casting call. (External link:[43])
Michael Chiang's stage-to-screen adaptation of the trials and tribulations of a motley bunch of army recruits featured an effeminate Eurasian man whose main aim in life was to become a housewife in Ang Mo Kio. However, his platoon mates were flabbergasted when he breezed through the obstacle course with more speed and sang froid than any of them.
One of Singaporean director Glen Goei's early local productions which was distributed in America under the title of "That's the way I like it". It also dealt with transgender themes, alongside the movie's main light-hearted romance, as Hock's elder brother reveals his desire for a sex-change operation to his unreceptive traditionalist Chinese family.
ForeverFever002.jpg ForeverFever003.jpg
The Singapore government banned 27-year-old's Royston Tan's visually explosive and shocking 2003 film. Part social realism, part documentary and part cinematic adventurism, 15 follows a group of teenage outsiders grappling with violence, drug running, prostitution, piercings and thoughts of suicide. Quietly, amidst the madness, they find moments of tenderness in each other's arms. Tan looks to MTV and popular culture for his technique, mixing Chinese graphics with short colourful scenes, voiceovers and rewinds. Attention grabbing, over stimulating, this is not however strictly a gay film. Tan's weaving of tenderness and sexuality is homoerotic, providing a window onto the homosexual bonding that takes place in adolescence - the first needs and touches before sexuality becomes more fixed. The result is an astonishing if at times gut-wrenching experience.
Acclaimed local director Eric Khoo's 2005 production was the first major homegrown motion picture to feature scenes of female coupling in the form of 2 touchy-feely teenage schoolgirls (played by waifish actresses Ezann Lee and Samantha Tan), who fall in love as quickly as they fall out of it. They tenderly stroke each other's arm and face, cuddle under the sheets and in cinema halls, and share an intense 10-second kiss on the mouth. Although Be With Me was rated M18 with no cuts, the authorities were not exactly throwing caution to the wind. The movie's original poster featuring both girls lying on some steps and locked in an embrace in a scene from the movie was been banned in Singapore and replaced with an image of a man necking with Samantha Tan. According to a spokesman of Warner Brothers, which distributed the movie locally, the Media Development Authority (MDA) stated that the original was 'not suitable as a PG poster' because the graphics 'implied content of a homosexual nature'.
The Blue Mansion
[
edit
]
On 10 October 2009, openly gay director Glen Goei's quirky, murder mystery film, "The Blue Mansion" held its world premiere at the Pusan International Film Festival in South Korea[44]. Goei, of "Forever Fever" fame, completed his labour of love after an 11-year hiatus from filmmaking. A sub-plot in the movie revolved around one of the sons (played by Lim Kay Siu) of the rich, murdered patriarch. The son was gay and at his father's funeral, met one of his former lovers, played by the director Goei himself, who had come to pay his respects. They reminisce about old times. In another scene, the son's gay porn magazines hidden in a drawer were discovered by a detective investigating the patriarch's murder.
Liang Po Po: the movie
[
edit
]
Straight comedian Jack Neo's large screen production of his frequent television drag spoofs of a doddering, bumbling but lovable old lady and her exploits. Liang Po Po: the movie (梁婆婆重出江湖; literally Granny Liang / Grandma Neo returns to the real world) was directed by Teng Bee Lian in 1999. In it, the main character, an 85-year-old lady named Liang Po Po, makes a decision to leave her retirement home in search of a new life with the belief that she can still contribute to society.
Number 1
[
edit
]
A heartwarming 2020 dramedy that sees comedian Mark Lee's character Chow Chee Beng taking up a job as a manager at a drag club after getting retrenched. He then becomes a performer and realises he has a knack for it. The film also eventually sees his secret exposed to his wife and family, and how he deals with the fallout. It also features drag comedy icon Kumar and several transwomen including Happy Polla from Thailand and Singapore's Abigail Chay.
The movie won the Golden Horse Award in Taipei for Best Makeup and Costume Design[45].
See also
[
edit
]
References
[
edit
]
External links
[
edit
]
A comprehensive collection of videos dealing with Singaporean LGBT issues on YouTube by Roy Tan, divided into 2 channels - "Homosexuality in Singapore"[46] and "Transgender People in Singapore"[47].
Acknowledgements
[
edit
]
This article was written by Roy Tan.