From S'pore LGBT encyclopedia
On Friday, 7 January 2005 at 8:30pm Channel U broadcast Singapore's first television programme to feature a local transwoman entitled "Sense of Being". It interviewed 38-year old post-operative Malay male-to-female transsexual Amy Tashiana[1]. Tashiana talked about her life as a former model with Carrie Models and performer at the defunct cabaret club Boom Boom Room.
From 14 to 22 January 2004, Toy Factory presented director Jeremiah Choy's "Spring Singing", an exhilarating song and dance production at the AGF Theatre, Alliance Francaise, 1 Sarkies Road[2]. It featured 7 talented young men including Lee Yu-Wen as well as a Singapore Idol finalist and Channel U's Next Big Thing finalist belting out a range of songs from the 1960s to present, encompassing pop, disco and R&B.
In late January 2004, Action for AIDS revealed that the number of MSM who tested positive for HIV doubled from 26 in 2003 to 54 in 2004, accounting for 3 out of 4 HIV-positive clients at the Anonymous HIV Testing Centre[3]. Almost 1 out of 20 MSM tested in 2004 were HIV positive causing HIV prevalence among MSM clients to edge up from 3.5% in 2003 to 4.3% in 2004.
In late February 2005, "Rich Rhapsody", a Taiwanese feel-good movie set in Singapore which deals with a mother's concern over the sexual orientation of her third son, opened in Singapore as well as Taipei after the Singapore Censorship Board deliberated for more than a month over the film's gay theme before agreeing to lower the rating from a conservative R21 to an M18[4]. This delayed the movie's opening from 6 January to 24 February. In Hong Kong, Rice was classified a category IIA film - unsuitable for children but with no minimum age limit. The writer and director of the movie was Kenny Bi and starred veteran actress Sylvia Chang, celebrity chef Martin Yan as her admirer, Singaporean actor Tan Lepham who plays Chang's youngest son, Leo and Melanie Laurent in the role of French exchange student Sabine.
On 6 March 2005, Fridae profiled medical undergraduate and award-winning writer Alfian Sa'at, who was primarily concerned with Malay-Muslim issues, gender politics, civil society and active citizenry[5]. He was best known to the LGBT community for his popular gay plays, Asian Boys Vols. 1 & 2.
On Wednesday, 9 March 2005, Senior Minister of State for Health, Dr. Balaji Sadasivan, told parliament that the Nation parties, which had been held annually since 2001, could be linked to the HIV upsurge among gay men in Singapore[6]. He warned of an AIDS epidemic as the total number of new cases rose 28% in 2004 reaching a high of 311 from 242 the year before. He reported that 90% of new patients were men with a third of them being homosexual. Despite acknowledging that the Ministry of Health did not know the "reasons for the sharp increase of HIV in the gay community," Dr. Balaji nevertheless quoted the hypothesis of an unnamed "epidemiologist who suggested that this may be linked to the annual predominantly gay party in Sentosa - the Nation Party - which allowed gays from high prevalence societies to fraternise with local gay men, seeding the infection in the local community."
The folowing day, 10 March 2004, Fridae issued a press statement in response to Dr. Balaji's remarks, pointing out the fact that the Ministry of Health had never once targeted any of its public health campaigns at MSM and that the illegal status of gay sex made it impossible for government agencies to work closely with the gay community to address the HIV epidemic[7]. For example, Action for AIDS volunteers distributing safe sex material at the Nation party in 2004 were told by police to stop their activities as it was "promoting illegal activities," i.e. homosexual sex. The LGBT advocacy group, People Like Us, offered other possible reasons for the HIV surge among MSM including more people taking HIV tests due to wider media publicity and Action for AIDS' (AfA) successful outreach efforts, the increasing numbers of MSM going overseas and being infected there and reduced vigilance from urban MSM globally due to advances in medical science, which have transformed HIV from a fatal disease to a chronic one when treated with drugs[[8]].
On Sunday, 13 March 2005, Dr. Balaji, speaking to Straits Times reporters after a charity event, defended his remarks, saying that they were intended to be a wake up call for gays to get tested for the virus at the Anonymour HIV Testing Centre at Kelantan Lane if they were at risk[9].
On 18 March 2005, The Straits Times reported that Minister of Information, Communications and the Arts, Dr. Lee Boon Yang said that the government was not practising 'double standards' by including a talk on Singapore and the pink dollar during the recent Singapore Season in London[10]. The panel comprised gay activist Alex Au, gay poet-playwright Alfian Sa'at and Fridae's CEO Dr. Stuart Koe. Dr. Lee was quoted as saying: 'We can't pretend that there is no such thing as a homosexual community in Singapore.'
In March 2005, a group of members headed by Gary Chan from the gay Christian support group, Safehaven, announced that they would be organising "affect05 - Saving Lives, Transforming Mindsets," a charity concert to be held at the Jubilee Hall on 3 April 2005 aimed at promoting the message of affirming life and practicing zero tolerance for unsafe sex amongst MSM while raising funds for Action for Aids (AfA). raise funds for AfA and pass on the message of HIV awareness[11]. However, their application to hold the fundraising concert was been turned down on Friday, 18 March 2005 by the Media Development Authority (MDA) which said, "Based on the reports about the duo's performances in the United States and the duo's website, the duo uses their musical performance and their own example of being a couple, to celebrate and promote a gay lifestyle," referring to performers, Jason and deMarco who were in a relationship although they have never been advertised as such. They concluded, "We are unable to agree to your application as performances that promote alternative lifestyles are against the public interest."[12]
In late March 2005, Action for AIDS released the results of their second survey, conducted from June 2004 to Aug 2004, to determine if there had been any significant changes in sexual and HIV-related knowledge, attitudes, and behaviour amongs MSM in Singapore since the previous survey in 2002/2003[13]. A total of 1,529 valid responses were collected - an increase of 18.4% compared to the previous survey.
Over the weekend beginning on Thursday, 14 April 2005, Fridae held its first-ever series of Squirt and Slurp parties in Bangkok at the Babylon and Chakran gay spa complexes and the ultra-chic Bed Supperclub, a lounge, upscale restaurant, art gallery, stage and club merged into one in the fashionable Sukhumvit district[14],[15]. Dr. Stuart Koe, CEO of Fridae, said that the decision to hold Squirt in Bangkok was not due to Singapore authorities turning down a permit for the Christmas Snowball.04 party the previous December but to increase the company's profile in the region.
From 7 to 17 April 2005, with breaks, Toy Factory Theatre Ensemble in collaboration with the Esplanade presented the eagerly awaited local debut of Singapore-born, Los Angeles-based playwright Chay Yew's "Porcelain" at the Esplanade Theatre Studio[16]. The controversial R(A) play, which was bestowed the prestigious London Fringe Award for Best Play in 1992, followed a young Asian man's struggle to find himself in the face of homophobia and racism after shooting his lover in Bethnal Greens Tube station's cruisy toilet. It was directed by award-winning directors Goh Boon Teck and Beatrice Chia, and starred LIFE! Theatre Awards Best Actor nominees, Nelson Chia and Mark Richmond.
In April 2005, the Licensing Division of the Singapore Police faxed a rejection of Fridae's application to hold Nation.05, Asia's most acclaimed gay and lesbian private party, citing the event to be "contrary to public interest". Nation.05 had clinched sponsorship by Fortune 100 global communications leader Motorola for the second consecutive year and Subaru for the third. The carmaker was a well-known pioneer corporate sponsor of gay and lesbian athletic and community events in the United States and was represented by Motor Image Pte Ltd locally. Dr. Stuart Koe, CEO of Fridae said, "We are disappointed that the authorities have deemed a National Day celebration by Singapore's gay citizens as being "contrary to public interest" when it had previously been approved for four years without incident. This is a direct contradiction to previous calls for embracing of diversity." As a result of the rejection, Fridae announced on 7 June 2005 that it would be holding Nation.05 in Phuket, Thailand from 4 to 6 November 2005[17]. Crowne Plaza Karon Beach Phuket was named the official host hotel while the Hilton Phuket Arcadia was designated the supporting hotel[18],[19]. In late August 2005, Phuket's Kata-Karon Municipality approved the use of Karon Stadium for the party[20],[21],[22],[23].
Also in April, the enormous potential of the Wikipedia phenomenon as a tool for educating Singaporeans, and indeed the entire world, about local LGBT culture became apparent to Roy Tan, a healthcare professional with a passion for documenting Singapore gay history. For the first time, disparate pockets of information scattered throughout the Internet could be consolidated, harnessing the experiences and expertise of thousands of gay Singaporean surfers. Editorial control now lay in everyone's hands and not just the author's, as was the case with individuals' websites. Tan wrote the first article entitled 'Singapore gay movement' in Wikipedia on 12 April 2005. In the ensuing months, the framework for an encompassing network of information was laid down on the Wiki site, which rapidly grew to become a centralised, linked, one-stop education centre dealing with Singapore LGBT history and culture. Unfortunately, homophobic deletionists removed most of the Singapore LGBT-related articles on Wikipedia, which prompted Tan to port them over to SgWiki[24] and Knol[25].
On 14 April 2005, 4 men were arrested at a gay sauna located near the Bugis area[26]. The police arrived at the sauna at about 11pm for a routine fire inspection when they found the 4 men having sex in a dark room. They had apparently continued with their activities despite the lights being switched on to facilitate the inspection.
From 20 April to 1 May 2005, contemporary dance group, Ecnad, in conjunction with its 9th anniversary celebrations, presented "FireBall", an explosion of dance expression which drew together more than 25 artists, many of whom were gay, from various disciplines[27]. It featured concurrent photographic exhibitions, dance costume and graphic installations displayed in eye-popping styles, including a smorgasbord of dance, live music, jam sessions plus free outdoor activities. It was held at The Arts House (The Old Parliament House), 1, Old Parliament Lane.
On 3 May 2005, Fridae profiled 28-year old Bryan Choong, one of Oogachaga's leading facilitators[28]. Choong revealed that Oogachaga and Looking Glass would be presenting regular personal development and growth workshops for lesbians, gays and their friends on the first Tuesday of every month in 2005. Their second workshop in 2005 would be entitled "Coming Home To Our Families - To Tell or Not to Tell?", to be held on 3 May 2005 at 7:30pm at Utterly Art, #02-01, 208 South Bridge Road. Oogachaga would also be launching a new men's support group on 6 May 2005.
From 12 to 19 May 2005, New York-based Singaporean artist Jason Wee presented "Bao Bei", an exhibition which looked at the ways through which identity is reconstructed through gay online personal ads[29], at The Substation Gallery, 45 Armenian Street. 27-year old Wee was then pursuing a 2-year Masters in Fine Arts at Parsons School of Design, specialising in photography and related technologies on a Shell-NAC Scholarship. In 1999, prior to moving to New York, Wee had set up Oogachaga, a network of support groups for young gay people with friends Steve Wong and Kenneth Lau.
On 21 May 2005, the Straits Times reported that 3 teenagers caught the AIDS virus in 2004, the biggest in a year since 1985, when HIV was first detected in Singapore. Before 2004, Ministry of Health figures showed only 1 teen at most per year tested positive for HIV. Another alarming change was that the infected teens in the past two years were gay. Previously, the 3 teens infected between 2000 and 2002 had been heterosexual. In 2005, the lone 17-year old student who had so far tested positive for HIV was also gay. He was presumably infected by his older partner who pressured him into having unprotected sex, according to AFA programme director Roger Winder. (Read The New Paper report: [30])
In June 2005, The New Paper reported that a school, the Centre for Exceptional Children, which took in students under 12 who had learning disabilities or who had low IQs had spent S$40,000 (US$23,700) replacing teaching aids like cards and blocks, and other common items including cupboards, a microwave oven, hot water flask and toaster which a gay teacher had touched even though there was no evidence that he was HIV positive[31]. This was done after the school authorities fired the teacher upon reading a newpaper report saying that the teacher was warned but not charged by the police in September 2003 for committing an act of gross indecency with another man after the teacher reported to the police that the other man had robbed him.
In July 2005, Singaporean PhD student (at the University of Illinois in the US) Christopher Tan presented a paper at "Sexualities, Genders, and Rights in Asia: 1st International Conference of Asian Queer Studies"[32],[33]. The meeting was held in Bangkok from 7 to 9 July 2005 and proudly sponsored by Fridae[34],[35]. Tan's paper was entitled 'Pinking the Lion City: Interrogating Singapore's Gay Civil Servant Statement'[36]. In it, he explored the legal basis for discrimination against homosexuals in Singapore and argued that Prime Minister Goh Chok Tong's June 2003 statement, that the Government would employ gays even in 'sensitive' positions provided that these civil servants openly declared their sexual orientation, was not a discourse of tolerance. Data gathered from Tan's fieldwork suggested that while gay Singaporeans welcomed the statement, they also strongly doubted the Government's sincerity. When civil servants in Tan's survey pool were asked whether their individual ministries or statutory boards had done anything to realise the statement, the answer was a uniformly resounding 'No!'
On Sunday, 10 July 2005, local tabloid The New Paper reported, citing unnamed sources, that up to 5 of the 65 volunteers in Action for AIDS' MSM outreach programme had contracted HIV in the previous 2 years[37]. The paper remarked, "These volunteers themselves have contracted HIV, begging the question: Why didn't they practise what they preached?" A second source said that many of the volunteers were good-looking men under 30 years old and they see the MSM outreach programme as another avenue for them to meet other gay men. The unnamed source added, "I know of many counsellors who have met patients and in the follow-up have become partners." AfA retorted that only 1 volunteer got infected after becoming a volunteer and none of the counsellors had met patients who later become their partners.
On Thursday, 14 July 2005, Herstory third biennial Butch Hunt finals were held at Gotham Penthouse, #03-01, Blk. 3A, River Valley Road, Clarke Quay[38].
On 15 July 2005, Safehaven, the gay-affirmative ministry of the Free Community Church launched a new 18-session support programme to help gay Christian men reconcile their sexuality with their faith[39].
In a surprise announcement on Tuesday, 19 July 2005, Minister of National Development Mah Bow Tan announced to parliament in his Ministerial Statement on Policy Changes Affecting The Property Market that 2 non-related parties, such as same-sex couples, could henceforth jointly purchase private residential properties using their Central Provident Fund (CPF) funds[40]. Previously, only joint buyers who were immediate family members (i.e., spouse, children, siblings and grand-parents) could utilise their CPF money to purchase private property. Same-sex couples who wished to finance their property jointly could only do so if they were both unmarried Singapore citizens, 35 years of age or above and had only purchased a Housing & Development Board (HDB) flat from the open market[41].
On 25 July 2005, queer women's online forum RedQueen! organised a talk entitled "Same-sex attraction: a Christian perspective" at The Substation[42],[43]. The speaker was Rev. Dr. Yap Kim Hao.
From 28 July to 26 August 2005, gay activists, bolstered by broad-based grassroots support, organised Singapore's first public LGBT pride celebration, a month-long festival called IndigNation[44],[45] (see main article: IndigNation: Singapore's first gay pride month).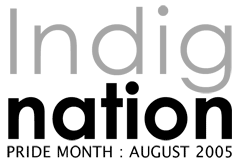 The latter moniker was a clever play of words representing the gay community's displeasure at official discrimination, epitomised by the ban of the Nation.05 party. Gay discos like Happy in Tanjong Pagar also made their own statement by holding a pre-National Day indoor party called DetermiNation and hung an enormous Singapore flag outside its premises. It indicated that they were determined to celebrate the occasion as proud, gay Singaporeans in spite of the governmental ban.
The events that were lined up for IndigNation were an art exhibition entitled "Cerita Budak-Budak" by painter Martin Loh, a lecture on "Same sex love in classical Chinese literature" by Dr. Tan Chong Kee[46], a gay poetry reading session called "Contra/Diction" organised by poet Dominic Chua, an art exhibition entitled "Solitary Desire" by young talents Ong Jenn Long and Steve Chua, a double lecture "Where Queens Ruled! A history of gay venues in Singapore" and "Same sex love in classical south Indian literature" by Dr. Russell Heng and Sheo Rai, "Sex and the Christian gay person", a forum by Safehaven, "Exploring Paul, homosexuality and the Romans - an intensive workshop on Biblical interpretation" by the Centre for Reflexive Theology, the inaugural Quarterly Forum - "40 years of Independence: The National and the Personal" by Alex Au, a theatre production "Boys" by Richard Chua and the finale, a private gay party called "6iXX! - the sixth annual ADLUS bash" by ADLUS, the gay sports group.
On 1 Sep 2005, Fridae profiled Jeffrey Tan, the resident choreographer and assistant ballet master with the Singapore Dance Theatre who was involved in its production of "Reminiscing the Moon", a highly acclaimed dance epic accompanied by live traditional percussion music and songs performed by established singers and musicians from Solo, Padang, Jakarta and Singapore. The performances were staged at the Esplanade Theatre fro 1 to 3 September 2005.
From 16 to 25 September 2005, theatre company Luna-id presented "Quills", a play about the Marquis de Sade in which its dashing lead actor, Reehan Engineer, displayed one hour of full-frontal male nudity, a first in Singapore[47]. It was staged at the DBS Arts Centre, home of the Singapore Repertory Theatre, 20 Merbau Road, Robertson Walk.
On Tuesday, 13 September 2005, on behalf of the National Arts Council, Dr. Lee Boon Yang, Minister for Information, Communications and the Arts presented Fridae, amongst other corporate sponsors, with an Arts Supporter Award at a ceremony held at the Esplanade[48]. The award recognised cash and in-kind contributions by the private sector amounting to between S$10,000 and S$49,999.
On 6 October 2005, during a 50-minute Q&A session at a Foreign Correspondents Association which touched on terrorism issues and local issues, a Time magazine journalist remarked that the Singapore government gave "every impression of being somewhat homophobic" and asked Prime Minister Lee Hsien Loong about how he felt about gays. Lee replied, "I don't think we're homophobic. I agree that homosexuals are people like you and me."[49]
The following day, in response to Prime Minister Lee's comments, People Like Us issued a press statement welcoming the PM's assurance that the government was not homophobic and that it needed to accommodate the gay community's interests[50]. The gay advocacy group further called for decriminalisation of consensual gay sex and the equalisation of the age of consent, equalisation of censorship standards between heterosexual and homosexual themes and content, registration of gay-identified societies and removal of homophobic bias in the Ministry of Education's curricula.
In October 2005, Britain's Warwick University rejected the Singapore government's invitation to set up a branch campus on the island-nation because of the poor state of gay rights in Singapore, among other reasons[51]. This was the first time that a major foreign investor turned away. The university was expected to invest about US$520 million.
From 4 to 6 November 2005, Fridae's Nation.V (formerly dubbed Nation.05) party was successfully held in Phuket, Thailand. It comprised the following events - the welcome reception[52], the G.Y.M. Welcome Party[53], the Sanctuary Pool Party[54], the Nation Party proper[55] and the Splash T Dance[56]. According to a report in the local The Nation newspaper, an official from the Phuket Tourism Association estimated that Nation.V attracted 2,000 partygoers who spent Bt30 million (US$729,000) in the province[57].
In November 2005, popular local gay web portal, SgBoy, was fined S$5,000 (US$2,940) by the Media Development Authority[58]. The site was asked to remove the "offensive" content comprising "raunchy pictures" and explicit sexual language which the MDA had initially objected to in September 2004. Shortly later, a little known website called Fluffboy.com, believed by many to be a spin-off from SgBoy although the latter officially denied this, was banned by the MDA for allegedly promoting homosexual promiscuity. This was done by blocking access to the site by Singapore-based Internet surfers.
On Wednesday, 7 December 2005, 5 HIV-positive male blood donors, 4 of whom were found to have lied about having sex with other men when donating blood the previous year, were charged under the Infectious Diseases Act with making false declarations in the Donor Health Assessment Questionnaire and sentenced to jail terms of between 8 to 10 months[59]. They were found to be HIV-positive after their blood was tested routinely for the disease. The blood was not used for any transfusion. Singapore prohibits men who have sex with men from donating blood.
Despite the police refusal to grant a licence to Fridae to hold Snowball.05 even though it was to have taken place indoors, gay discos carried on their business as usual during the Christmans and New Year season, organising parties for their clientele[60].
On 23 December 2005, Fridae's year-end party, SnowBall, which was banned in Singapore the previous year was held in Taipei, Taiwan[61]. It was Fridae's first-ever event in Taiwan with an estimated attendance of 5000 partygoers, making it an instant success which had Taipei's entire gay community buzzing for weeks[62]. Taiwan's leading gay portal, Club1069, was Fridae's media partner for Snowball.