From S'pore LGBT encyclopedia
Introduction
[
edit
]
The documentation and chronicling of gay venues in Singapore form an important aspect of the human geography of a significant sector of the population. It was extremely difficult to find or record such information in the past as the social activities conducted in these areas were sometimes at loggerheads with official policy and even considered illegal. It is a testament to the gradual loosening of the socio-legal and political reins by the Government in the past years spurred by the development of the Internet and economic necessity that such information has become widely available.
Non-commercial/non-sexual venues
[
edit
]
The Free Community Church, located since June 2014 at #02-01, One Commonwealth, is a congregation of diverse individuals and families gathering to worship and grow as a Christian community.
Its first three locations were at:
The Attic, 21 Tanjong Pagar Road, just above Mox Bar
Pearls Centre-Yangtze Building, #04-02/04, 100A Eu Tong Sen Road. The unit housing the church at Pearls Centre lay at the end of a corrider branching out from the vestibule of Yangtze Cinema itself and should not have been confused with the same unit number at Pearls Centre which sold Chinese religious artifacts.
Level 3, Century Technology Building, 56 Lorong 23, Geylang.
A Singaporean Christian church which welcomes all people regardless of race, religion, gender, sexual orientation or economic status. It conducts Sunday services at 10:30 am.
Set up by activists to inculcate pride in being gay and in staying HIV negative, it initially commenced operations at 22A Rowell Road, above the AFA headquarters, in the Serangoon or Little India area. It held its opening party on Saturday, 6 December 2003 from 6pm to 9pm in its premises at Rowell Road[3]. The event featured live tribal drumming & flame throwing, food and drink, music, a film screening as well as safer-sex demonstations. Opening hours of the resource centre during the early years were on Wednesdays from 7pm to 9pm and Saturdays from 3pm to 7pm.It is currently housed in the Free Community Church (see above). It underwent many location changes since it opened it doors at Rowell Road. These included Bianco, one floor above Mox Bar & Cafe at 21 Tanjong Pagar Road, #04-01, Singapore 088444, in a member of the gay community's home also along Rowell Road near The Post Museum and in both locations of DYMK, at Kreta Ayer Road and Neil Road. It operates an extensive library of location and international gay literature as well as non-fiction books whose catalogue can be searched online on its website, it also has an archive of Singapore gay history and culture. Open once a week on Saturdays from 4 to 8pm. For more information, please email contact@pelangipridecentre.org
Its current office, the fourth to date, is located at level 2, 40A Mosque Street. Its former locations were a volunteer's flat along Tanjong Katong Road, a building at Mount Emily and in The Office Chamber at Jalan Besar. OC is a counselling and personal development organization for lesbian, gay, bisexual, transgender and questioning (LGBTQ) individuals. They are a non-profit organisation under the umbrella of SPACES Counselling and Community Limited. SPACES (Registration No. 200402955N) is a company limited by guarantee with registered charity status in Singapore (Charity no. 01812). Oogachaga services are supervised by credible professionals and agencies in the fields of psychology, therapy and counselling in Singapore who are familiar with issues facing LGBTQ individuals.
Arts venues
[
edit
]
The following list consists of exhibition and performance venues where many works dealing with LGBT themes or by LGBT arts practitioners have been held. However, they are not exclusively used for such purposes.
45 Armenian Street, tel: 6337- 7535, fax: 6337-2729, box office: 6337-7800.
Founded in 1990 by the late Kuo Pao Kun, it is Singapore's first independent contemporary arts centre, centrally located in the civic district. Its sub-sections include a black box theatre, a gallery, a dance studio, the Blue Room and two multi-function classrooms. It was the venue for the nascent PLU Sunday meetings in the early 90s. The historic PLU 2 pre-registration discussion was also held in the Blue Room in 2003.
It is currently located at its second premises so far, at level 2, 229A South Bridge Road (above Teck Soon Medical Hall, opposite the Sri Mariamman Temple, Pagoda St Entrance) Singapore 058778; Tel: 6226 2605 Fax: 6226 2645208. It was formerly located at 208A South Bridge Road, Level 2 (above Xpose), Singapore 058757. Tel: 6226 2605, fax: 6226-2645, e-mail: utterlyart@pacific.net.sg. It is open from Mondays to Saturdays from 11:30am to 8pm, and on Sundays from 12 noon to 5:30pm. It is closed on public holidays, but open on Christmas and New Year's Eve till 5:30pm.
It provides exhibition space and management services to a diverse and vibrant range of local and Asian artists, and internationally-renowned photographers. The most active gallery on the Singapore art scene, it is a leading showcase of works by established painters like Martin Loh and Chng Seok Tin, as well as popular young artists like Trina Poon.
It was the venue for the very first event of IndigNation, Singapore's historic, inaugural, government-approved gay pride month celebration in August 2005. This was an exhibition of paintings by artist Martin Loh entitled Cerita Budak-Budak, meaning 'children's stories' in Peranakan Malay. The event was followed up with Contra/Diction - A Night with Gay Poets held on 4 Aug 05, Singapore's first public gay poetry reading session which was attended by over 70 people, with standing room only. The popular Oogachaga-Looking Glass gay and lesbian relationship seminars were also conducted here.
Grey Projects (GP) is a platform for activity and dialogue which includes LGBT issues. Our programming focuses on residency and exchange, publication, as well as exhibition.
They are looking for art experiments, design propositions, new writing, and curatorial practices. They are located in a rented unit at 6B, Kim Tian Road (tel. 66556492) in Tiong Bahru, a public housing estate in Singapore known for its architecturally distinctive flats. Our space includes two galleries, a library, a working studio, and a live-in residence. GP is looking to be a lively contribution to this estate, but more than that, they aim to be a place where they gather people and make things happen together.
Nestled in a quiet corner of the Kampong Glam heritage district at 17 Jalan Pinang, Artistry is a new art gallery and café in a shophouse run by proprietor Prashant Somosundram. It is his second enterprise and a further development of the now-defunct Pitch Black cafe along Haji Lane. Artistry aims to develop an intimate space for art and creative endeavour, including LGBT issues. They seek to provide emerging artistes with a platform for their debut solo exhibitions and host talks, performances and events in our space. Serving up the locally roasted Liberty Coffee and artisan desserts, Artistry is a space for arts practitioners and patrons to connect and develop the creative community in Singapore.
Bars, pubs and karaoke joints
[
edit
]
(For drag queen performance bars such as the Boom Boom Room and Gold Dust, see the article Transgender people in Singapore).
Most of Singapore's gay bars are located in the Tanjong Pagar constituency, through the heart of which runs Tanjong Pagar Road. This earned it the nickname of Singapore's Castro Street after its legendary namesake in San Francisco. However, with the closure of many gay establishments along Tanjong Pagar Road and the sprouting up of new ones along Neil Road, the latter seems to have usurped the title. Gay establishments are found interspersed along Tanjong Pagar Road and adjoining thoroughfares such as Tras Street, Craig Road,Neil Road, Duxton Hill, Ann Siang Road, as well as nearby districts such as Chinatown and Telok Ayer.

Its address is 41 Neil Rd, tel. 6224-3965. It was opened and is managed by the old crew from MOX Bar at Tanjong Pagar. The bar is double-storeyed and has a retro-style decor. The crowd is mostly LGBT. The place is chic, cozy and perfect for unwinding after a hard day's work. It also hosts the local SM crowd every last Thurday of the month.
Situated at 13A Trenggannu Street (at the corner with Temple Street), Chinatown, tel. 6227-1712.
A cozy, uniquely decorated, gay-owned bar, with a balcony for flirting with passers-by. Fridays and Saturdays are particularly jam-packed. The staff are very hospitable and drinks are reasonably priced. It is located close to multiple clubs and gay saunas, opening daily from 7pm until the wee hours.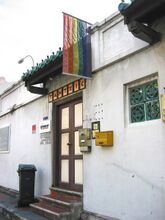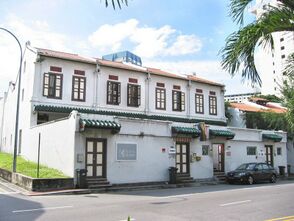 78 Neil Road (across from Taboo), tel: 6423-9232. It is a gay-owned and managed bar, the first to drape a rainbow flag above its main entrance. It has an open courtyard and a great atmosphere with a world music ambience. Weekends groove to the deepest "deep house". It opens daily from 8pm to 3am. The crowd is gay but gay-friendly straights are also welcome. May Wong's cafe, owned by Tantric Bar, is a new place to chill out. It's located on level 2 of the same building as Tantric. It is a good hangout during weekends when one wants to avoid the peak period crowd at Tantric.
A chill-out gay bar-restaurant right next to Play disco at #01-05, 21 Tanjong Pagar Road and under the same management.
Situated at 57 Neil Rd, tel. 6324-2802. Classy gay karaoke bar with nice crowd and friendly staff. Beverages are reasonably priced. On the eve of public holidays, the bar sometimes converts to a disco with cool house music after midnight. Open from Monday to Saturday, on holidays and the eve of public holidays, 8 pm to 3 am. Free shot for birthday guys or gals with proof of date of birth.
Situated at 43 Neil Rd, tel. 62242865. A new day & night venue. Set in a Chinatown shop house this Buddha inspired outlet offers you a relaxed atmosphere where the bistro/bar menu offers a wide selection of food and drinks at very reasonable prices. The 'happiest happy hour' in town meaning great drinks at great prices - Introducing our 1 for 1 housepour from 4-9pm Mon thru Sat. This is the place for that after work gathering with colleagues, or simply come down early with friends and stay late for the entertainment on offer. Open from 12 noon to 12am (Monday) 12 noon to 1am (Tuesday to Friday) and 2am on Saturday & Public Holiday. It underwent a makeover in 2013and was renamed OUT Bar.
OUT Bar[16] - a chill out gay bar located at 43 Neil Road designed in the iconic 1960s Hollywood era style to cater to today's divas. Its focus is entertainment with regular events, performance and a guest deejay. Open from Monday to Saturday, it's the perfect place to unwind, at happy hour prices, after a day's work. Promotions from 5pm to 9pm daily with any 2 beers at $14 nett and house red/white wine at $8 nett. Don't miss its infamous mojito cocktails at a very reasonable price. OUT Bar is available for private events, be it personal or commercial during the day.
Karaoke bar located at 145 Telok Ayer Street, exactly where OSO Bar was. "Lluvia" means "rain" in Spanish. The unit is directly across from the magnificent Thiam Hock Kheng Temple in a large, old style Chinese house. The clientele is many bears, chubs and their chasers.
Located at 13A to 15A South Bridge Rd (opposite the Riverwalk Apartments, above 7-11), tel. 6533-2436. Actors Bar is a friendly club with a mixed straight, lesbian and gay crowd consisting of people from all walks of life. Happy hours are from 6-9 pm with 3-for-2 pricing. They have a live band Jam Bar where customers can make use of equipment such as bass, congas, drums, guitars and keyboards. Open daily from Monday to Saturday.
Check in - 235 South Bridge Road. Tel: 62244281.
Club 28 - #03-19A, 100 Eu Tong Sen Street, Pearls Centre and 78 Desker Road. Tel. and table reservations: 92371822. A new concept called a 'Flower Boy Club' introduced into Singapore in 2013 where patrons pay a fee (usually $50) for a place at a table where they can chat with a choice of Thai, Vietnamese and mainland Chinese hosts.
Lesbian bars
[
edit
]
30 Mosque Street, tel: 6221 1239.
A karaoke pub for womyn to showcase their vocal prowess, belting out the latest Chinese hits. It contains a bar and pool table, which together with the wooden log wall panelling make it reminiscent of an old western bar & tavern.
Situated at 95 Club Street, in the same unit as the now-defunct Club 95. It is a small and cozy bar primarily for lesbians, but it is also great for lounge lizards. Opening hours are from 6.30pm - 12am (Monday to Thursday), 6.30pm - 2am (Friday and Saturday). Closed on Sundays.
Discos/Clubs
[
edit
]
A pub-cum-disco originally located in Tanjong Pagar on the left half of where Happy today stands, it was one of the most popular with the trendy young crowd for 7 years since 1997 and attained quasi-icon status.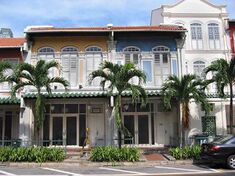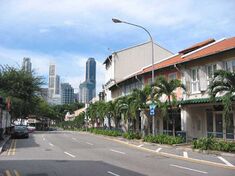 It closed in August 2004, only to be reincarnated at 65/67 Neil Road (opposite Tantric Bar and near where Rairua sauna used to be). Tel: 6225-6256. The proprietor Addie Low, his management and waiters (almost all straight due to hiring policy) are very friendly. It occasionally features internally renowned DJs such as DJ Shigeki who took up a residency there and hosted its Flirt party in 2008[24]. Cruising in the facilities happens, but it is best to be discreet. It is a good place to pick someone up and head home or to a sauna. Its patrons are a mixed crowd, including lesbians. All races party here, so it's extra fun. Busiest on Friday and Saturday nights with many clubbers coming on both days.
A mega disco club situated at #01-02 to 05, Blk. 3C, The Cannery, Clarke Quay, River Valley Road (exactly the same location as the former Ministry Of Sound). Gay nights are on Sundays when the party, often themed, is called "Superstar"[26]. Gay DJ George Leong[27] spins the music. The cover charge is $18, inclusive of 1 drink and doors open at 10 pm.
Situated at 719/21 Jiak Kim St (part of the Zouk disco complex), tel. 6738-2988. Best to go by taxi. Trendy hybrid of high and low design. Great music. More mature crowd than Zouk, flashy and upmarket, mixed ethnically, mixed sexually. Often Thu nights is very happening since it's Crew Night (air crew can bring in a guest for free)! Admission varies, but you also get into adjoining Zouk for free. Best to come here with a friend.
Located at 17 Jiak Kim Street, tel: 6738-2988, Zouk was built inside 3 warehouses along the Singapore River that date back to 1919. Still one of Asia's trendiest clubs, the interior design was influenced by a mish-mash of styles from Moorish North Africa and Gaudi's Park Guell to Aboriginal art and Turkish baths, with a mix of minimalist furniture, mirrored walls, high-tech lighting and plasma screens thrown in. The complex is divided into 4 distinct areas. The flagship Zouk club which is globally renowned with a mainly house and techno policy is a favourite with many gays. It is accompanied by Phuture which covers big beat, drum & bass, down tempo, nu jazz and anything experimental. Meanwhile Velvet Underground aims to achieve an intimate club experience. This is a place for slightly older clubbers with cosy alcoves and comfortable lounge areas as well as a well-stocked champagne cocktail bar. Another section is the Wine Bar, a pre-club bar and chill-out zone with an outdoor seating area and a cafe offering hot dogs and sushi. Zouk club is very organised about who is spinning on which dates. The best time to meet gay folks is when guest DJs are in attendance, so the schedule on their website should be checked. However, because of the upscale, mixed crowd, discretion is warranted. Packed on Fridays and Saturdays. Wednesday is the Retro day, although not really that gay. When big-name international DJs perform, one should arrive between 7-9pm to get cheaper tickets as prices rise after 9 pm.
Only gay in its "Fabulous" section on Sunday nights, it was the place to see and be seen on weekends. However, it had a strict "no topless" policy for gay men, which its bouncers enforced.
Its address is #01-05 The Gallery Hotel, 76 Robertson Quay, tel. 6333-8117. Great music in the bar area. Mixed crowd, some gays, predominantly Caucasian/Chinese crowd.
Hyperise - A Sunday gay disco night organised by Hypertainment Events held once every few months at 1-Altitude, One Raffles Place, Rooftop. Hypertainment is the dedicated party division of Creative Clinic. For marketing collaborations and advertising opportunities, contact Adrian at info@hyper.com.sg.
The Butter Factory[35],[36] - 1 Fullerton Road, #02-02/03/04, Singapore 049213. Tel: 6333 8243. E-mail: admin@thebutterfactory.com. Opening hours - Wednesdays: 11pm - 4am; Fridays and Saturdays: 11pm - 6am. The Butter Factory is an imaginative, bold and ground-breaking party blend of urban grooves, cutting-edge electronic music, fashion, design and art. Located at One Fullerton, The Butter Factory offers popular and alternative culture, along with a variety of party music to get down to, spread across two loud rooms.
An upmarket sauna at 17 Upper Circular Road between Boat Quay and Clarke Quay. The Raffles Place MRT station is closest. Tel: 6223-0017.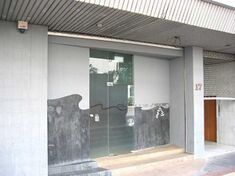 Nude nights start on Friday from 7pm till Saturday morning. Saturdays from 7pm to midnight are 'short towel', and after midnight it is 'skin'." It was the first to have an al fresco swimming pool which later had to be covered up, as office workers in the neighbouring building could have a bird's eye-view of the frequently naked men lounging around the poolside. The floor above, which was formerly occupied by a bank, was acquired and renovated at great expense in 2004 which effectively doubled its cruising space. Two men were arrested here by undercover policemen for homosex in 2003. Their penalty was commuted from a potential 2-year jail sentence under section 377 of the Singapore Penal Code to a mere $600 fine under section 20 of the Miscellaneous Offences Act in what may be a landmark ruling in Singapore legal history, as far as gay rights are concerned.
Located at its second premises at Pagoda Street, near Chinatown MRT. The entrance is only accesible by a lift beside the "XIANG" barbecue meat shop and beside the overhead bridge of the Chinatown MRT.. It was formerly situated one floor below Mox Bar in the same building, at 21 Tanjong Pagar Road when it opened in mid-2007. Its main attraction there was its central location, smack in the middle of the gay disco district.
On level 2, 32A Pagoda Street, exactly where the now-defunct disco, Niche, used to be. Tel. 6423-1632. Singapore's first sauna to serve alcohol has a spectacular rooftop bar with gorgeous views of surrounding Chinatown. Protected from weather (and prying eyes on their fully nude nights), this is certainly the city's loftiest vantage for spotting new friends. The 5-floor facility is thoroughly modern with contemporary design touches and plenty of spaces to play. Level 2 contains the reception area, lockers, two Internet stations, TV and reading lounge, plus steam room and showers. The floors above feature plenty of private cabins, dark corners, and a maze, all well-stocked with safety supplies and cleaned at regular intervals. Check their website for operating hours and special theme nights including come-as-you-are martini nights, nude nights and free entry nights for youth. Mixed ages and races. Open until dawn on Fridays, Saturday nights and the eve of public holidays. The entrance fee at $26 is the steepest for any gay sauna in Singapore but it also has the most good-looking crowd.
Located on level 2, 51A Pagoda St, tel. 6221-0367, SMS 9758-7514. This is its third premises in the heart of Chinatown. Shogun started off as The Box at 182 Telok Ayer Street. The Box was a "cruise club" which meant that patrons could cruise for sex indoors, with their clothes on. However, it proved an unpopular concept leading to its rebranding as Shogun, a gay sauna. Entry is gained by heading up the staircase from Trengganu Street, on the corner opposite Absolute. The reception desk is located on level 2 up a flight of steps from the street level entrance. Level 2 has lockers, TV lounge, dark maze, and a very clever glass-enclosed smoking room so that you can still cruise those taking a cigarette break. Level 3 has a large lounge with futons, dark rooms, cabins, outdoor shower and a BJ bench. It is one of the most popular gay saunas because of the reasonable entry charge of $10, welcoming staff and friendly crowd which tends towards the macho, mature, bears and their admirers. it open 24 hours daily and there are theme nights. No membership fee required.
Situated at 4 Jln Klapa, tel. 6296-1018. No membership required. Three floors of facilities include a large hot jacuzzi, a steam room, designated smoking room, large play rooms, a mini cinema-style TV room, two Internet stations, dark maze and a small lounge. Theme nights such as chub and chaser, skin night, young night. Mostly Chinese locals, but everyone is welcome at this friendly, comfortable neighborhood sauna. Open from Sundays to Thursdays, 10:30 am till midnight. On Fridays, Saturdays and on the eve of public holidays, it closes at 2 am. It is run be the former Diamond Health Club management. It now attracts a new group of young people below 30s because they offer a 1-for-1 visit if you fall below that age. Tue skin nites have lately been popular with daddies and sons, chubs, cubs, bears and muscular men. Expect a lot of senior people there. During the weekends from Friday to Sunday, there is a mixed crowd who are keen to use the steam room andjacuzzi. The entry fee is S$15.
Located at 790 North Bridge Road (at the southwest corner intersection with Jln Klapa), tel. 6299-4121. The entrance is right at the corner on North Bridge Road. Be careful not to mistake the door with the "Spa" sign right next to it as the entrance (this goes to a two-storey straight spa, not to Keybox). Gay sauna located at the quieter end of North Bridge Rd, a short walk from Bugis and Little India or the Lavendar MRT Station. This secluded and quiet sanctuary for relaxation is attracting a regional crowd (Chinese, Pinoys, Malay, Thai, Indonesian, etc.) as well as locals and international visitors of all ages. Facilities include TV lounge with Net stations, hot tub, steam room, gym, designated smoking room, private cabins and dark areas. Check their website for theme nights.
Situated at #02-00 325 New Bridge Rd, tel. 6222-2252. It is managed by well known sauna entrepreneur Max Lim and was formerly named Heater Room. It is a large, 5-storey men's complex offering sauna, gym, spa massage. It also includes Queen Resident[44] which provides gay barrack rooms for short- or long-term accommodation. Their "MPG" (Man's Playground) offers two hot jacuzzis, steam, dry sauna, single and sharing bathrooms, event room, private cubicles, "Obstacle Room," resting area, 6 free Net stations, two TV lounges, full-body sun tanning deck, Island Bar serving food and drinks, reading and chat area, and designated smoking areas. CCTV security in locker area. They aim to attract an multi-cultural crowd including western, Chinese, Indian, Malay and Thai men with special event theme nights to match. Max has also set up an online social networking service called Men Meet Men[45],[46] which is a further development from his now-terminated maleculture.com website when he was running his former saunas Stroke and Raw at the Ann Siang area.
Located at 285 New Bridge Road (just beside Oriental Plaza). Tel: 6224-6334. It held its launch weekend from Thursday, 8 December to Sunday, 11 December 2011. Facilities include a sun tanning machine, a gym, lighted deluxe jacuzzi, Internet station, movie studio, dark maze, meditation rooms, a space cabin steam room and a rooftop cafe.
Outdoor venues
[
edit
]
Being frequented mainly at night by a stigmatised minority in fear of running afoul of the law every time they congregate for social or sexual intercourse, outdoor gay hangouts have remained largely unknown to the mainstream public. It was only in the mid-90s that police harassment of homosexuals at these venues stopped, although sporadic complaints by members of the public may still be investigated. The following list, which includes cruising areas some conservative gays may feel does not cast a favourable light upon the Singaporean homosexual image, has been drawn up for the sake of academic comprehensiveness and as a record of the collective local gay memory.
(For transgender (transvestite/transsexual) venues such as Bugis Street, Johore Road and Changi Village, see the article Transgender people in Singapore.)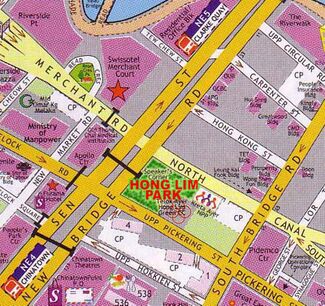 Also officially known as Hong Lim Green, it was the first and formerly the most famous Singaporean gay venue listed in the premiere international gay tourist reference, the Spartacus Gay Guide. It was affectionately code-named "Honolulu" or "Hollywood" in the early years by some English-educated gay men. Cruisy at night for more than half a century, its dim lighting and tall shrubbery provided ideal conditions for quickies between gay men, especially elderly Chinese-educated ones, until the bushes were pruned and bright lights installed in the early 90s to deter such activities. The rectangular plant receptacles along the periphery of the park where gay men could sit, chat and perhaps fondle each other have also since been removed. Nightly cruising and sex also took place in a small 2-storey shopping centre which was demolished and replaced by the present car park. In the 1980s, casual strollers were shocked to see young boys holding hands at night and wrote letters to the newpapers to complain. In spite of several police patrols in which these boys were questioned, no one was charged as nobody was caught flagrante delicto. The setting-up of the Kreta Ayer Neighbourhood Police Post in an old building (which formerly housed a post office) next to the car park was also considered a measure to curb late-night cruising. Policemen would ride out on their bicycles in the 1990s to comb the entire Boat Quay-OCBC building area at night to scare away thrillseekers. Noctural cruising activity is now sparse and mainly confined to the toilet located next to the Kreta Ayer community centre.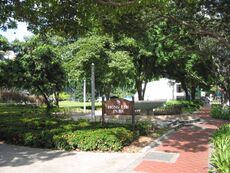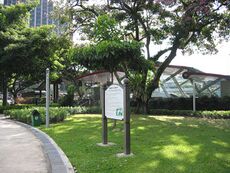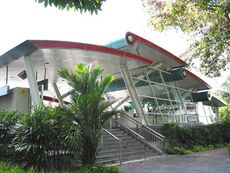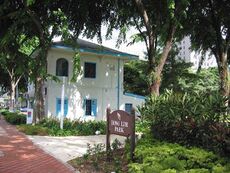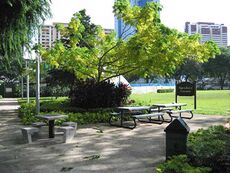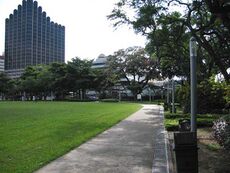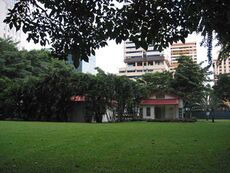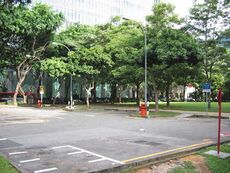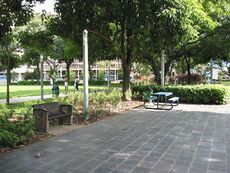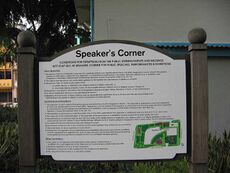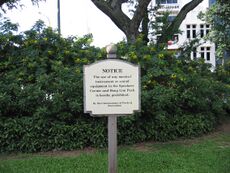 Since May 2009, Hong Lim Park has been the venue for the annual, massively attended, public LGBT-supportive event organised by Pink Dot SG. This was possible after the Government legalised the holding of demonstrations at Speakers' Corner on 1 September 2008.

Cruisy at night since the early 1990s, but much less so since a landscaped sanctuary named Ann Siang Hill Park was built in 2004 with adequate illumination so that clandestine activities are not so convenient.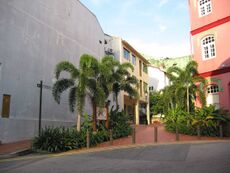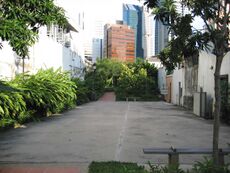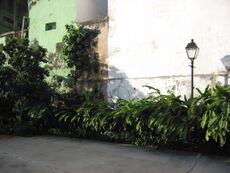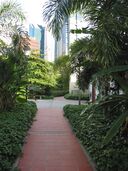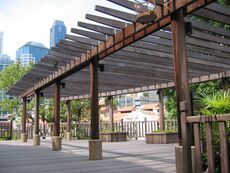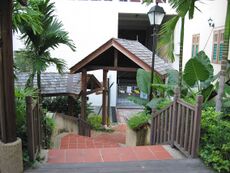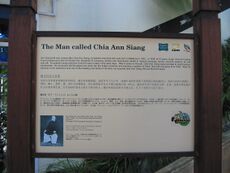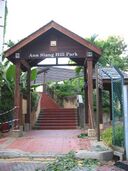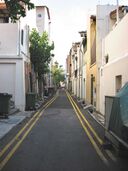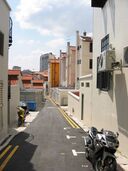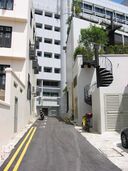 Less popular after the sprouting of numerous gay saunas since the late 1990s and the development of well-lit commercial complexes like China Square which replaced the dark, dank, derelict shophouses where night-time cruising took place.
The current street cruising hot-spot is the Telok Ayer area, especially around Boon Tat Street, where the back alleys have not had lighting installed yet. However, the available length of cruisable pathways is much less than in the Ann Siang area during its heyday. Also, more owners of the food and beverage establishments lining the alleys are gradually starting to install lights at their posterior facades.
The previous toilet which was completely enclosed by 4 brick walls was a hive of activity. The new toilet, built in 2003 during a major redesign of the park, whose interior is visible from the outside via large gaps in the slotted timber walls is much less conducive to cruising, although some still takes place. Most homosexuals prefer to stroll in the fresh air along tracks traversing and skirting the perimeter of the park.
Changi Business Park vicinity
The most active is the huge trailer car park at Fort Road at night. Lesser known ones include the upper levels of Pearls Centre and Shaw Towers.
Enclosed/Indoor public venues
[
edit
]
More comprehensive and up-to-date listings can be found at the Utopia website's Singapore pages:[49]
It is thought that in the early days of immigrant Singapore, homosexual cargo coolies began to have clandestine sexual encounters in the public toilets along the Singapore River, especially at Boat Quay. This may explain how Hong Lim Park developed into the earliest and most well known nocturnal rendezvous for homosexuals - because of its proximity to Boat Quay. In contemporary Singapore, there is cruising activity is found in most public toilets - particularly those of shopping centres and MRT stations.
(For a discussion of places no longer extant where homosexuals used to socialise or cruise such as Le Bistro, Pebbles Bar, Treetops Bar, Vincent's lounge, Niche, Marmota/Shadows, Legend, Spartacus, Rairua, Boat Quay and Esplanade Park, see the articles Singapore gay venues (historical) and Singapore gay venues: historical, minor).
See also
[
edit
]
References
[
edit
]
External links
[
edit
]
Photo albums of gay cruising venues in Singapore: [54]