From S'pore LGBT encyclopedia
Mainstream society in Singapore was largely unaware of the existence of a local LGBT community until the publication of a groundbreaking series of articles in 1972 by the evening tabloid of the day, "New Nation" (see main article: Singapore's first newspaper articles on the LGBT community). Indeed, there were many LGBT individuals themselves who were also ignorant of this fact until the seminal expose hit the newsstands.
Since then, courageous individuals, the first of whom were artists Jimmy Ong and Tan Peng in the early 1990s, have gradually and sporadically come out to the general public. This was initially via the local press and subsequently, as the Internet gained widespread penetration by the 2000s, more commonly through the online media. Even so, nobody knows how many LGBT people there are in Singapore because the once-in-a-decade national Population Census has never attempted to gather such data[1].
Venues where gay men could meet have evolved from surreptitious, nocturnal rendezvous to more open, "decent" businesses like bars and clubs and even a community centre and church. Ever since the nationally publicised attempts of People Like Us, Singapore's first LGBT advocacy group, to gain registration as a society in 1996 (which failed twice) to the record-breaking attendance at Hong Lim Park during the annual Pink Dot event which supports "the freedom to love", more mainstream Singaporeans and the government have come to recognise the existence and legitimacy of the local LGBT community's needs.
Businesses which cater to the community have been allowed to flourish, even though, at the official level, the policy still remains to forbid the registration of any business or society which specifically states in its application that it wishes to target the niche LGBT segment. The latest concession was in the realm of public housing when the HDB (Housing and Development Board) allowed singles (including LGBT ones) to buy new 2-room BTO (Built to order) flats directly from it (see video:[2]), a privilege hitherto reserved only for married couples.
Definition
[
edit
]
Main article: Sexual orientation
The term "homosexual" in this wiki is defined as "having a greater sexual or romantic attraction for the same sex than for the opposite sex". Thus, a person happily married to a spouse of the opposite sex may still be homosexual even though he or she consciously refrains from or has never indulged in homosexual acts. The term "gay" denotes someone who self-identifies as homosexual.
The articles in this category have been intentionally prefixed "Singapore gay..." instead of the ideally accurate "Singapore LGBTQI..." so as to render them more accessible to the lay reader who may not be familiar with technical gender terms and acronyms, and to increase the likelihood of their getting higher-ranking hits when users of search engines type "gay" and "Singapore".
Statistical problems
[
edit
]
There are no statistics on how many gay people there are in Singapore or what percentage of the population they constitute. The main reason for this is that before its repeal in 2007, section 377 of the Singapore Penal Code criminalised "carnal intercourse against the order of nature" which included even consensual, private, adult homosexual acts. The penalties were either life imprisonment or imprisonment for up to 10 years with or without a fine.
Another statute which criminalises homosexual sex, also imposed by Singapore's erstwhile colonial masters, the British, in 1938 when the Straits Settlements Penal Code held sway, is Section 377A. This law was not repealed along with Section 377 in the Penal Code (Amendment) Bill of 2007 and is the last remaining piece of legislation to make gay sex illegal. This greatly hinders the gathering of statistics pertaining to the gay community.
The 2000 U.S. decennial census estimated (by extrapolation from hard data) that the proportion of gay men in America was 2.5 percent and of lesbians, 1.2 percent (source: Scientific American, March 2005 issue, page 20, 'Gay and Lesbian Census' by Rodger Doyle[3]) even though socio-psychological studies from the Kinsey era to the present day show that the same percentages of those claiming greater erotic attraction for the same sex were 7.7 for men and 7.5 for women.
The latest study done by the British civil service in December 2005 using actuarial tables and estimates supplied by the Department of Trade and Industry reported the figure for gay people in the UK as being 3.6 million or 6 percent of the population[4].
On 26 December 2005, China Daily reported that Zhang Beichuan, China's foremost expert on homosexuality estimated, according to statistics, that the number of gays in the Peoples' Republic was between 39 and 52 million, or 3 to 4 percent of the population[5].
Figures in Singapore may be broadly similar.
Available statistics
[
edit
]
In 2001, Fridae, Asia's largest English language-LGBT web portal, polled its gay and lesbian members residing in Singapore[7]. Of the 595 respondents, 39% declared that they were "attached" or "living with a partner." 40% of the respondents who were in relationships had been with the same partner for more than 6 months.
A high proportion of respondents lived with their parents, while only 22% owned or rented their homes. This was despite the relatively high income levels of the respondents, with 50% earning more than S$80,000 (US$47,000) per annum – 20% reporting income levels of more than S$180,000 per annum, 11% between S$120,000 to S$180,000 and 19% between S$80,000 to S$120,000.
A caveat would be that online surveys tend to be less representative of the broader population than scientifically conducted real-world random surveys, because of significant participation bias towards computer users and those disproportionately interested in the topic.
Starting from 2006, Sayoni, an organisation for Asian queer women, has been conducting a regular survey on queer women living in Singapore, which provides the most detailed statistics available on this population available to date. The full reports are available here. This survey is subject to the same bias-factors as mentioned earlier.
In 2013, Pink Dot, Oogachaga and Sayoni launched Singapore's first LGBT census to collect data on the local LGBT community. However, the use of the word "census" was a misnomer as the study did not attempt to discover the absolute number of LGBT people in Singapore, but more to gather statistics about the characteristics and needs of the community.
Historical background
[
edit
]
See the main articles:
Singapore gay culture
[
edit
]
See the main articles:
Historical
[
edit
]
Main article:Paddy Chew
The first Singaporean AIDS victim to publicly declare his HIV-positive status, thus giving a face to a hitherto anonymous affliction which mainstream society considered remote from possible encounter. He came out on 12 Dec 1998 during the First National AIDS Conference in Singapore. He identified his orientation as bisexual.
His plight was dramatised in a play called "Completely With/Out Character" produced by The Necessary Stage, directed by Alvin Tan and written by Haresh Sharma, staged from 10-17 May 1999. He passed away on 21 Aug 1999, shortly after the play's run ended.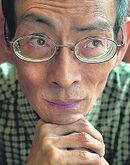 Yap was arguably Singapore's finest poet, enormously influential amongst the later generations of Singaporean writers. He was also a painter. He won the 1983 Singapore Cultural Medallion for Literature. He died of naso-pharyngeal carcinoma on 19 June 2006, bequeathing $500,000/-, part of his estate which included his apartment off Killiney Road, to the National Cancer Centre Singapore (NCSS) where he was a patient. [8]
Contemporary
[
edit
]
Activists
[
edit
]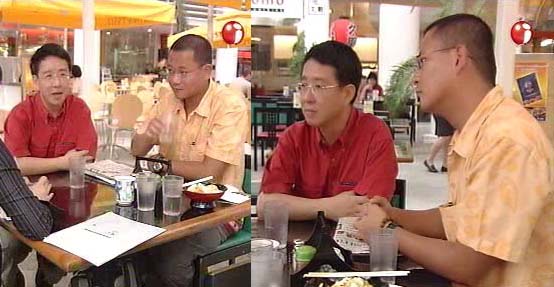 Eileena Lee (see Fridae interview,Yahoo! profile) - Singapore's most well-known lesbian activist. Lee was the founder of RedQueen!, Singapore's first and main lesbian mailing list. She was instrumental in the setting up of Looking Glass, a counselling service for lesbians in emotional distress, and Pelangi Pride Centre, Singapore's first LGBT community centre. She relinquished her appointment as president of the pro-tem committee of People Like Us 3 in 2006 but continues to build a bridge between the lesbian and gay communities. She currently devotes most of her energy to moderating RedQueen! and organising activities at Pelangi Pride Centre.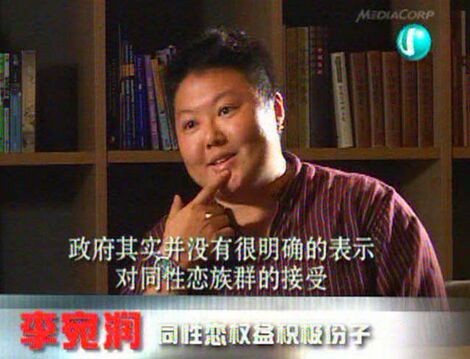 Charles Tan - PLU3's effectively-bilingual, diplomatic, affable and unflappable spokesman. Tan was the second male gay activist to be interviewed on Singapore television and is an ardent advocate of democracy.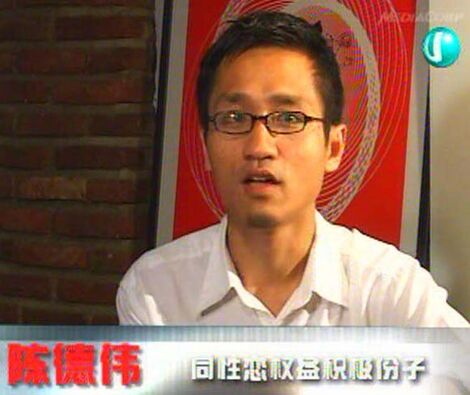 Jean Chong (see Fridae Interview, blog) - one of the founders of Sayoni, a discussion forum for queer women. Chong was also active for 7 years in organising women's activities for Safehaven and the Free Community Church. She is currently the only woman serving in the core committee of People Like Us. She played an instrumental role in organising all the women's functions for IndigNation and was the chief liaison personnel for many of its other events. In August 2011, Chong led a 3-woman team from Sayoni to the Conference to eliminate all forms of discrimination against women (CEDAW) at the United Nations in New York to highlight the discrimination experienced by lesbian, bisexual and transgender women in Singapore. She forms a strong link between the lesbian and gay communities and is the best known second-generation lesbian activist, having cultivated strong links with both local and regional LGBT organistions and the media, as well as contributing to civil society.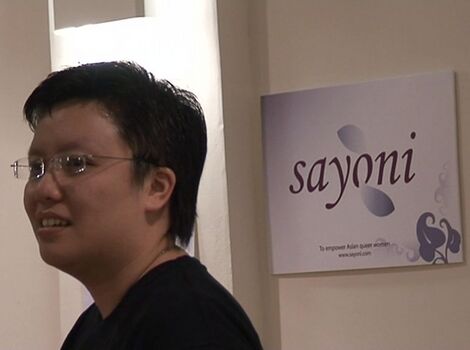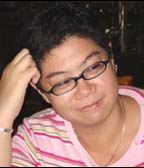 Entrepreneurs
[
edit
]
Edward Chew - Singapore's first "pink" entrepreneur. Publisher of the world's first glossy Asian gayrotic periodical, OG, which was produced in Singapore, printed in Hong Kong, and widely distributed around the world through the 1980s and 1990s. Many Singaporean gay photographers and graphic artists worked underground to produce OG semi-annually over two decades.
Max Lim - Singapore's first gay impresario to be known by a wide swathe of the local LGBT community. He was the first to organise outdoor gay parties in the early 1990s at such venues as the East Coast Lagoon and Big Splash, and non-Sunday gay disco nights at various mainstream clubs like Dancers - the Club in Clarke Quay and at Far East Shopping Centre. He opened Spartacus, Singapore's first gay sauna with a daily gay disco on the ground floor, and later, Stroke and Raw saunas along Ann Siang Road. Lim was the first to experiment with such novel concepts as a 24- hour sauna that never closes, a totally gay restaurant, a transwoman pride march down Ann Siang Road and Club Street, a drag artiste cabaret-disco, swimming trunk fashion shows, erotic film screenings, overnight lodgings for gay men, and offering patrons the option to buys shares in gay enterprises.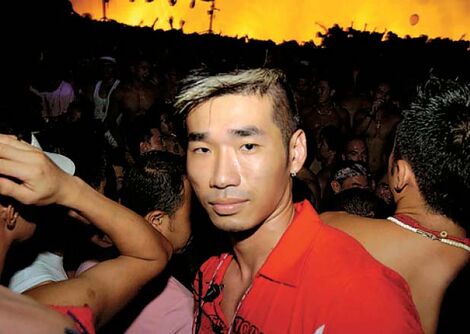 Vincent Tnay [10] - Founder of Vincent's lounge / Vincenz, Singapore's first dedicated East-meets-West gay bar where Caucasian patrons could socialise with their local aficionados.
Arts practitioners
[
edit
]
Tan Peng - Singapore's first openly gay artist and also one of the first Singaporeans to come out to the general public.
Jimmy Ong - the first Singaporean to come out in the press (The Straits Times) with a photograph of himself in an article published in 1990 [11]. He was one of the earliest members of People Like Us and attended their monthly meetings at The Substation. Ong is an artist specialising in large, charcoal, gay-themed drawings. He held an exhibition of his work at the Post Museum during IndigNation 2008. He currently lives in the US in a legal gay domestic union. (see website).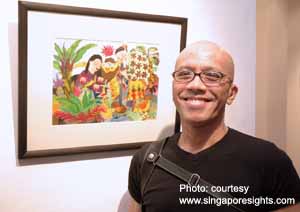 Cyril Wong (see website) - The only openly-gay poet to win the National Arts Council's Young Artist Award for Literature, Wong is at the forefront in canvassing greater public support for the arts in general, and poetry in particular.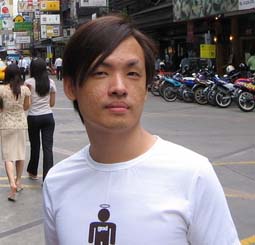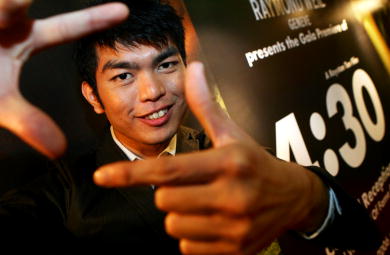 Academics
[
edit
]
Dr. Russell Heng (see Fridae interview) - Singaporean academic, playwright, psychologist and former Straits Times journalist. The most senior of all the gay activists, Heng was the first local academic to write research papers on homosexuality in Singapore and also one of the founding members of People Like Us.
Dr. Vincent Wijeysingha - Singapore's first openly gay politician who came out to the general public in 2013. He resigned from the Singapore Democratic Party also in 2013 to concentrate on civil society activism.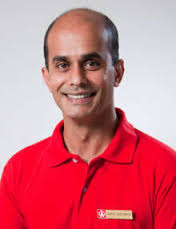 Dr. Tan Chong Kee (see Fridae interview, website) - the impressively bilingual and academically-qualified founder of Sintercom (Singapore Internet Community), Tan has been a guest on several television panel discussions and documentaries, and the subject of newspaper articles on socio-political activists. He delivered the first lecture of IndigNation entitled "Same Sex Love in Classical Chinese Literature", in Mandarin. Tan left Singapore in 2007 and currently resides in San Francisco with his white American husband whom he married in 2013. He was interviewed by The Independent in January 2014[12].
Professionals
[
edit
]
Sylvia Tan (see bibliography) - the first Singaporean journalist to write exclusively about local, as well as international, LGBT culture. Tan holds a degree in communications science and worked as the principal reporter and news editor of the English section of Fridae.com, Asia's largest English-language LGBT web portal from 2000 to 2014. She currently writes part-time for Gay Star News, an online international news source based in the UK. Tan is also actively involved in LGBT activism, including the organising of Women's Nite events and serves on the Pink Dot steering committee.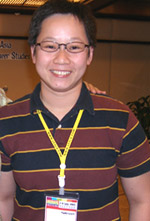 Roy Tan - healthcare professional passionately interested in documenting local LGBT history. Tan started all the Singapore LGBT-related articles in Wikipedia in 2005 and ported every article removed by deletionists to SgWiki[13] initially, and then to Shoutwiki[14]. He has also recorded and amassed the most comprehensive collection of local LGBT videos on YouTube[15]. On 13 December 2008, Tan delivered Singapore's first outdoor LGBT talk at Hong Lim Park[16]. Tan also intended to organise Singapore's first gay pride parade at Hong Lim Park[17],[18][19],[20],[21],[22] in 2008 after the government legalised protests there. This later morphed into Pink Dot SG[23][24],[25],[26][27],[28], an event which supported the "freedom (of LGBT people) to love" and which later spread worldwide. Together with fellow citizen Tien Kim Chuan, Tan marched in Singapore's first and only gay Chingay contingent when the public were allowed to form their own marching group in 2010[29] (see video:[30]).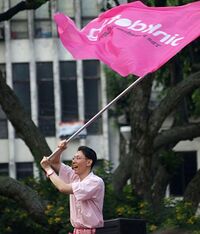 Bryan Choong, a trained counsellor and the first Centre Manager and currently the Executive Director of Oogachaga, a personal development agency that provides LGBT-affirmative counselling and support for the community. He was one of the recipients of the inaugural Asia Pink Awards, held in Singapore on 16 March 2014.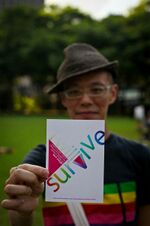 Other prominent personalities
[
edit
]
Straight allies of the LGBT community
[
edit
]
Reverend Yap Kim Hao - Rev Dr Yap Kim Hao, in his retirement from full-time Christian ministry, serves as Pastoral Advisor to the Free Community Church, a role he regards as a calling of God. Even as this ministry affirms lesbian, gay, bisexual and transgendered (LGBT) people in opposition to the stance of the institutional church, he is convinced this is a ministry he cannot evade, a responsibility he cannot avoid -- to declare Christ's inclusive love to those who have been ostracized and neglected for far too long by the Church.
Rev Dr Yap was the first Asian Bishop of The Methodist Church in Malaysian and Singapore. Subsequently he served as General Secretary of the Christian Conference of Asia, an ecumenical organization of over a hundred churches and national council of churches in Asia. He holds Master of Divinity and Doctor of Theology degrees from Boston University and was honoured by them with a Distinguished Alumni Award in 1988.
In addition to his ministry with FCC, Dr Rev Yap continues to serve on the Council of the Inter-Religious Organisation (IRO) in Singapore and is committed to the promotion of inter-faith dialogue and understanding.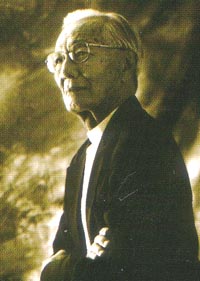 Sam Ho- one of the founders of SinQSA. Ho is a happily married man who aims to lead a debt-free life. He feels SinQSA is meaningful for straight people who feel they do not belong to part of a majority which perceives itself as homogeneous in values and beliefs and that there is diversity even within a community.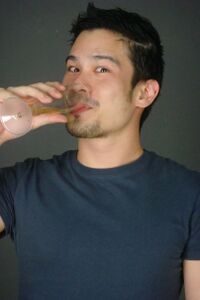 Singapore gay venues
[
edit
]
(For a discussion of places no longer extant where homosexuals used to socialise or cruise such as Le Bistro, Pebbles Bar, Treetops Bar, Vincent's lounge, Niche, Marmota/Legend/Shadows, Spartacus, Rairua, Boat Quay and Esplanade Park, see the article Singapore gay venues: historical).
Non-commercial/non-sexual venues
[
edit
]
Formerly located at #04-02/04, Yangtze Building, 100A Eu Tong Sen Road, it later shifted to 56 Geylang Lor 23 Level 3, Century Technology Building. In June 2014, it moved to its current premises at #02-01, One Commonwealth.
A Singaporean Christian church which welcomes all people regardless of race, religion, gender, sexual orientation or economic status. It conducts Sunday services at 10:30 am.
Set up by activists to inculcate pride in being gay and in staying HIV negative, it was formerly located at 22a Rowell Road, above the AFA headquarters, in the Serangoon or Little India area and at Bianco - 21 Tanjong Pagar Road, #04-01, Singapore 088444 (above Mox Bar & Cafe) and operates every Saturday from 4-8pm. From April 2008, it operated out of 54 Rowell Road, back in the Serangoon or Little India area. In the early 2010s, it was housed in DYMK, at Kreta Ayer Road and Neil Road. It is currently located within the Free Community Church itself at One Commonwealth, 1 Commonwealth Lane, #02-02, Singapore 149544 (tel. 8525 2643).
Its main features are the extensive library of local and international gay literature as well as non-fiction books whose catalogue can be searched online on its website, and an archive of Singapore gay history and culture. Events are held every 2nd Saturday of the month. For this and other information, please email pelangipridecentre@yahoo.com or see www.pelangipridecentre.org
Arts venues
[
edit
]
The following list consists of exhibition and performance venues where many works dealing with LGBT themes or by LGBT arts practitioners have been held. However, they are not exclusively used for such purposes.
45 Armenian Street. Founded in 1990 by the late Kuo Pao Kun, it is Singapore's first independent contemporary arts centre, centrally located in the civic district. Its sub-sections include a black box theatre, a gallery, a dance studio, the Blue Room and two multi-function classrooms. It was the venue for the nascent PLU Sunday meetings in the early 90s. The historic PLU 2 pre-registration discussion was also held in the Blue Room in 2003.
208 South Bridge Road, Level 2 (above Xposé)
It provides exhibition space and management services to local and Asian artists, and photographers. The most active gallery on the Singapore art scene, it is a leading showcase of works by established painters like Martin Loh and Chng Seok Tin, as well as popular young artists like Trina Poon.
It was the venue for the very first event of IndigNation, Singapore's historic, inaugural, government-approved gay pride month celebration in August 2005. This was an exhibition of paintings by artist Martin Loh entitled Cerita Budak-Budak, meaning 'children's stories' in Peranakan Malay. The event was followed up with Contra/Diction - A Night with Gay Poets held on 4 Aug 05, Singapore's first public gay poetry reading session which was attended by over 70 people, with standing room only.
Entertainment and cruising venues
[
edit
]
Singapore gay terminology
[
edit
]
Main article: Singapore gay terminology
The following list consists of formally accepted words, as well as slang in Singapore's 4 official and other minority languages, used to refer to gay men and lesbians. Terms for transgender and intersex people, while not strictly applicable to gay individuals, are also included in this section.
English/Singlish
[
edit
]
PLU - acronym for People Like Us, the first Singaporean organisation involved in the struggle for gay equality. It is also used as a slang word for LGBT people, especially amongst the younger internet-savvy generation. It has only been in fashion since the late 1990s, but has rapidly become the most popular, even spreading to neighbouring Malaysia.
Muffadet - Singlish corruption of 'hermaphrodite', used not with the proper meaning of a person with genitalia from both sexes, but as a synonym for an effeminate male. Formerly popular with especially Eurasians of the older generation.
Sister - slang for a transwoman (male-to-female transgender, transvestite or transsexual person). Also commonly used by some portions of the gay community to refer to close male gay friends.
A.Q. or A.K. - acronym for Ah Kua or Ah Qua, the Hokkien word for transvestite (see below).
A.J. - a popular term probably derived from the Pig Latin word for "gay", i.e. "aygay", with the guttural "g" softened to a "j" to further disguise its form. It was initially used by English-educated schoolboys in the better schools but later spread to and is currently mainly used by the younger generation of local Chinese-educated gays. The term is often used as code, in situations where the speakers do not wish to allow outsiders to understand the conversation. Example: "Is he AJ or straight?", "My classmate is also AJ."
G - abbreviation of 'gay'. Example: "Is he a G?"
On - slang meaning 'gay'. Example: 'Is he on?'
Poon - little known code word for "gay" used in some circles of English-educated Singaporeans in the 1980s and 1990s.
302 - army slang for an effeminate soldier; derived from the Singapore Armed Forces' medical classification of mental disorders known as Category 302, a designation for both homosexual and transvestite/transsexual personnel[33].
Prawn - code word applied to men who have attractive bodies but not handsome faces, i.e. good only from the neck down, like prawns. This term was concocted by Alfian Sa'at in his play "Asian Boys Vol. 3". It has unfortunately been used by Taiwanese gays when referring to their Singaporean counterparts[34].
Lebanese - code word for "lesbian" used by local lesbians in the 2010's, during the early Facebook generation.
Pondan - an effeminate male; increasingly being used by the Malaysian media to refer also to non-effeminate gay men[35].
Bapok- derogatory word for an effeminate male[36].
Kedi - derogatory word, derived from the Tamil 'kidi' (see below), also meaning a transvestite or effeminate male[37].
Peliwat - homosexual; derived from the Arabic word "liwat" which means "sodomy" or anal sex, a serious crime under Shari'a law[38].
Luti - Arabic for homosexual, literally the Biblical Lot; not commonly used by the Malays.
Anak ikan - Literally, "child fish", a slang term used to describe cute young boys. It corresponds to "twink" in English.
Homoseksual - derived from the English word homosexual.
Mak nyah - Transwoman. "Mak" is a colloquial contraction of "emak", meaning "mother" and "nyah" referring to ladylike/feminine behavior.[39],[40]. The term "mak nyah" was coined by the Malaysian male transsexual community (in 1987 when they tried to set up a society but was denied by the Malaysian Registrar of Societies) as a preferred substitute for "pondan" or "bapok" which generally refers to men who are effeminate homosexual (and cisgender) males.
Ponen - an effeminate male (less commonly used)[41],[42].
Hadik-hadik- an effeminate male (less commonly used)[43].
Pengkid - "Tomboy" or butch lesbian; a female who appears outwardly male[44],[45].
Pak nyah - Trans man (female-to-male transgender or transsexual person); perceived to be much rarer than mak nyahs.
Abang - literally 'older brother', but used as slang for transmen.
Waria - an Indonesian contraction of 'wanita' meaning woman and 'pria' meaning man, thus coining a word for a third sex, usually meaning transgender people. The Warias were the subject of a documentary by Kathy Huang entitled "Tales of the Waria"[46].
Wadam- a contraction of 'wanita' and 'Adam', literally a woman who looks like Adam; masculine female or butch lesbian.
Cunta - uncommonly used word for 'hermaphrodite'.
Mukhannis - an Arabic-derived term for a pre-operative transwomen; used by the Islamic Religious Department in Malaysia which forbids such a person from undergoing sex-reassignment surgery, cross-dress, wear make-up or even act effeminately[47].
Mukhannas - an Arabic-derived term for an effeminate male who does not want to change his physical sex; used by the Islamic Religious Department in Malaysia which forbids such a person to cross-dress, wear make-up or even act effeminately[48].
Musahaqah - an Arabic-derived term for homosexual sex between females[49],[50].
Kes cermin - literally means "mirror case"; prison slang for an inmate convicted for a homosexual crime.
Main pedang - literally "to play with swords"; slang word used by mak nyahs to refer to gay men.
ICI - slang word used by mak nyahs to refer to lesbians, evoking imagery that they mutually paint each other with multicoloured saliva.
Kunyit - a derogatory slang or code word mainly used in Malaysia since the early 2010s for a gay man who may or may not be effeminate. Kunyit is the Malay word for turmeric, a spice of the ginger family that comes in the form of a yellowish-orange powder. The metaphorical sense is that inserting the penis into someone's anus may bring into into contact with stools, which for the locals resembles pasty kunyit. As a corollary, gay men are sometimes referred to as "geng kunyit" (turmeric gang)[51],[52].
Sado - buff or muscular.
Chinese
[
edit
]
Mandarin
[
edit
]
Tóng xìng lìan (同性恋) - literally "homosexual love".
Tóng xìng lìan zhe (同性恋者) - proper or scientific term for a homosexual. The suffix 者 zhe ('person' or 'one who') is frequently dropped - incorrectly according to grammar purists - in colloquial Mandarin usage in Singaporean (as well as in China).
Tóng xìng aì (同性爱) - homosexuality (lit. "homosexual love"); a more respectful term than 'tóng xìng lìan' (同性恋).
Bō li (玻璃) - (lit. "glass") slang for male homosexual. It draws an analogy between the opening or mouth of a glass bottle and the male anus. It may also be derived from the stereotype of the male gay psyche as being fragile, like glass.
Tóng zhì (同志) - properly meaning "comrade" and profusely used during the Cultural Revolution, but currently also used as slang for homosexual in mainland China, Hong Kong and Taiwan[53]. Not commonly used in Singapore but well known because of the massive influx of mainland Chinese workers.
Xiǎo bái tù (小白兔) - (lit. "little white rabbit") code word for "gay man". Used initially by students in Singapore's Chinese junior colleges, it is probably derived from the legend of the Chinese Rabbit God, Tu Er Shen (兔儿神), who was originally a man called Hu Tianbao (胡天保)[54],[55],[56],[57],[58]. Another plausible etymology is the similarity between the rabbit's forward-bending position with its back arched and the one adopted by a "bottom" during anal sex, or the rabbit's flexed paws and the stereotypical limp writs of gay men. Therefore, it also has a derogatory connotation.
Other terms used in ancient and modern China but not commonly in Singapore are "dùan xīu zhī pì" (斷袖之癖) or 'the passion of the cut sleeve' and "dùan bēi" (断背) after popularity of the Hollywood movie "Brokeback Mountain".
Chū guì (出柜) - to come out of the closet; to reveal one's sexual orientation.
Yī hào/líng hào/líng dǐan wǔ (一号/0号/0.5) - (literally one/zero/half) "top/bottom/flex", the active/passive/flexible or versatile partner in gay male anal sex. Commonly used in Singapore, Hong Kong and Taiwan. 1/0不分 is also used for "flex".
Xǐao gōng (小攻), or simply gōng (攻) as the previous term may be regarded as unnecessarily diminutive - (literally "to attack") "top", the active partner in gay male anal sex. This term originated from Chinese gay romance novels and Japanese gay anime[59],[60]. More commonly used in mainland China.
Xǐao shòu (小受), or simply shòu (受) as the previous term may be regarded as unnecessarily diminutive - (literally "to be subjected to") "bottom", the passive partner in gay male anal sex. This term can also be used to refer to the male partner who is more effeminate and needs to be taken care of in a relationship. More commonly used in mainland China[61],[62].
Other less commonly employed slang words for "top/bottom/flex" are "骑士/马/人马" , "剑/鞘/剑和鞘都有", "倚天剑/血滴子", "凸/凹/回" (derived from the Japanese), "楼上/楼下" and "上面/下面".
Jǐe mèi (姐妹) - literally meaning "sisters"; a term of endearment used between transwomen, or even effeminate gay men, to address each other.
Kǒng tóng zhèng (恐同症) - a recently-coined scientific term for "homophobia", a product of Western culture.
Yīn yáng rén (陰陽人) - an intersex person; literally meaning "a person with feminine and masculine qualities".
Rén yāo (人妖) - a term for transgender people who usually perform on stage; literally meaning "human monster" or more euphemistically, "enchanting person". It is the Mandarin version of the Hokkien A koaⁿ (see below). This term is regarded as offensive amongst Chinese speakers and is mainly applied to Southeast Asian transgender people, especially Thai kathoey or ladyboys. Ethnic-Chinese transgender people themselves almost universally avoid the term, favoring less deprecatory descriptions.
Bìan xìng zhe (變性者) - scientific term for a transgender person who has undergone sex reassignment surgery, hormonal treatment or lifestyle changes.
Bàn zhūang húang hòu (扮裝皇后) - cross-dressing queen; drag queen.
Yì zhūang pì (異裝癖) - literally meaning "obsession with the opposite (sex's) attire"; cross-dressing.
Zhōng xìng rén (中性人) - an intersex person; lit. "neutral" or "middle sex person".
Kùa xìng rén (跨性人) - recently coined term for a transgender individual; it has a somewhat scientific/technical ring.
Níang (娘) - adj. sissy or effeminate. e.g., "He's cute, but he's gone a bit heavy on the eyeliner. A bit 'niang' for my taste."[63]
Lālā (拉拉) - lesbian. A phonetic adaptation of the English term[64]. Used mainly in mainland China.
Kōng (控) - it means fetish in mainland Chinese gay subculture. It can be combined with almost anything. Call someone "dà shū [uncle] kōng," (大叔控) and it means someone who's into older men; "xióng [bear] kōng" (熊控) means someone who's into chubby and hairy "bears".[65]
Chī tǔ dòu de (吃土豆的) - literally meaning 'eats potatoes', this term refers to a gay Chinese person who has a case of white boy/girl fever, and thus tends to only date Caucasians. There are also 'rice eaters,' 'sushi eaters' and more, depending on one's cuisine (菜) of choice.[66]
Hokkien
[
edit
]
(the phonetic spelling of Hokkien words in this section follows the convention of Pe̍h-ōe-jī)
A koaⁿ (commonly spelt phonetically as "ah kua") - a transvestite, or more recently, with sex reassignment surgery becoming more available, also a transsexual woman. Used in the past to refer to male cross-dressers who perform in Chinese operas or 'wayangs' as they are locally called.
O͘ a - literally meaning 'black crow', it is used as a covert form of "a koaⁿ", referring to the cackle that crows make, which sounds like a contracted form of "a koaⁿ". Not widespread.
A póng - 'pong' is the Hokkien translation of 'pump'; used to refer to a straight man who enjoys being the passive partner in anal intercourse, i.e. getting 'pumped'.
Mo· tàu-hù - literally 'to knead soyabean/tofu'; lesbian sex. By extension, it may also refer to sex between two 'bottoms' or effeminate/passive gay men, where their soft, limp penises do not respond to each other's fondling, and sex is an exercise in futility.
K'am - literally 'to suck'; to perform oral sex on someone.
Cantonese
[
edit
]
Bō lei (玻璃) - Cantonese version of the Mandarin "bō li" (see above); a gay man. Uncommon in Cantonese.
Gēi (基) - Cantonese transliteration of the English word 'gay'.
Gēi lóu (基佬) - a gay person/fellow.
Gáau gēi (搞基)- to indulge in homosexuality.
Sí fāt gwái (屎忽鬼) - literally meaning "bottom devil"; derogatory and offensive term for a gay man.
Tùhng seng lihn (同性戀) - Cantonese version of the Mandarin "tóng xìng lìan zhe".
கிடி (kidi) - Singapore Tamil slang word for a transvestite or effeminate male. Derived from the derogatory Malay slang word "kedi" (see above).
9 (onbathu; onbohthu) - Singapore Tamil code word for a gay man.
சுத்தடி (sutthadi) - male prostitute. It literally means "to beat the anus".
அக்கா (akkaa) - literally meaning "elder sister", it is a Singaporean slang word for a male-to-female transgender person or cross-dresser.
நம்பி (thambi) - literally meaning "brother", it is more used in India than in Singapore as a code word for a gay man.
நங்கை (thangai) - literally meaning "younger sister" it is more used in India than in Singapore as a code word for "lesbian".
திருநங்கை (thirunangai) - polite and official word for a male-to-female transgender person [67],[68]. (See video[69]).
திருநம்பி (thirunambi) - polite and official word for a female-to-male transgender person.
மாற்றுடை அணிபவர் (maatrudai annibavar) - cross-dresser.
திருநர் (thirangar) - all-inclusive name for transgender people.
பால் (paal) - sex.
பாலீர்ப்பு (paaliirppu) - sexuality.
பாலுணர்வு நடத்தை (paalunnarvu nadatthai) - sexual behavior.
பாலுணர்வு அடையாளம் (paalunnarvu adaiyaallam) - sexual identity.
ஓரினப்புணர்ச்சியாளர் (ohrinappunartchiyaalar) - homosexual, used most often by the Singapore media [70].
தன்பாலீர்ப்பு/ஒருபாலீர்ப்பு (thanpaaliirppu/ohrupaaliirppu) - homosexuality.
எதிர்பாலீர்ப்பு (ethirpaaliirppu) - heterosexuality.
ஈரர் (iirar) - bisexual.
இருபாலீர்ப்பு (irupaaliirppu) - bisexuality.
வெளியே வருதல் (velliyae varuthal) - coming out.
மாறுபட்ட பால் அடையாளம் (maatrupadtu paal adaiyaalam) - alternate gender identity.
மாறுபட்ட பாலீர்ப்பு (maatrubadta paaliirppu) - alternate sexuality.
மாறுபட்ட பாலீர்ப்பு மற்றும் பால் அடையாளம் கொண்டவர்கள (maatrubadtu paaliirppu mattrum paal adaiyaalam kondavargall) - all-inclusive term for LGBT or queer.
Malayalam
[
edit
]
Swawarga bhogi - scientific word for homosexual; "swa" meaning "self", "warga" meaning "type" and "bhogi" meaning "a person who has sex".
Flute - one who likes oral sex.
Vadanasuratham - oral sex.
Kannada
[
edit
]
Amraprasand - scientific word for homosexual.
Hijra (South Asia) - a member of the "third gender" in India.
Maasti- sexual play between men who are not necessarily homosexual, mainly to relieve sexual tension.
Samlaingik- scientific word for homosexual.
External links
[
edit
]